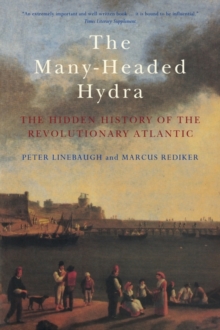 The Many-Headed Hydra : The Hidden History of the Revolutionary Atlantic
Paperback
Description
"An extremely important and well written book" Times Literary Supplement "More than just a vivid illustration of the gains involved in thinking beyond the boundaries between nation-states.
Here, in incendiary form, are essential elements for a people's history of our dynamic, transcultural present." Paul Gilroy, author of The Black Atlantic "The sections on piracy are perhaps the best parts in a generally splendid book.
But even more seminal for historical research are the many vistas Linebaugh and Rediker open up in the history of blacks, women, the United Irishmen, the left in the American War of independence, and religious millenarianism.
Strikingly, the authors write from the heart as well as the brain." Frank McLynn, author of Villa and Zapata "Scum of the maritime sort has their spell in the limelight with The Many-Headed Hydra.
This compelling history of the 'revolutionary Atlantic' portrays pirates, sailors, dockers, sea-going whores and other dregs of the ocean and coast as briny rebels who resisted the global commercial order and even disrupted the slave trade for decades." Independent "The Many-Headed Hydra is a wonderful book. Its passion and commitment encourages its readers to think associatively, to make progressive connections." Guardian "Peter Linebaugh and Markus Rediker, militantly libertarian academics, have written, in what the call 'this black book of capitalism', an account of trans-Atlantic social change since the seventeenth century, from the viewpoint of the underdog ...The authors' egalitarian bias may stimulate as much acclamation as Das Kapital." Irish Times
Information
Format: Paperback
Pages: 442 pages, black & white illustrations
Publisher: Verso Books
Publication Date: 03/07/2002
Category: General & world history
ISBN: 9781859844205
Other Formats
Paperback / softback from £15.89
EPUB from £22.11