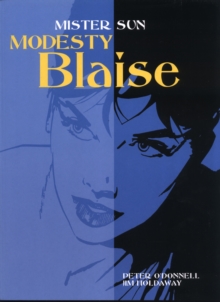 Modesty Blaise - Mister Sun
Paperback
Description
Modesty Blaise - cult creation of best-selling author Peter O'Donnell - returns!
Adventurer, spy, smuggler, racketeer and all-round bad girl, Modesty is as stylish as she is smart, as lethal and beautiful as a Japanese fighting sword!
Thrown into searing hotbeds of danger and intrigue, Modesty will need all her skills and instincts when she incurs the wrath of a Hong Kong master criminal.
Trapped between saving a friend and sacrificing her own beliefs, she is caught in the bloody tempest of the Vietnam War and must battle to survive the vengeance of Mister Sun!
Collecting the rare and classic newspaper strips from The Evening Standard, this volume also includes a new introduction by, and interview with, Peter O'Donnell.
Information
Format: Paperback
Pages: 110 pages
Publisher: Titan Books Ltd
Publication Date: 25/06/2004
Category: Thriller / suspense
ISBN: 9781840237214
Free Home Delivery
on all orders
Pick up orders
from local bookshops
Reviews
Showing 1 - 1 of 1 reviews.
Review by jjmcgaffey
16/06/2015
Mister Sun is weird - it's really two separate stories, both with disappointing (for the characters) endings. First part is Mister Sun and Weng - apparently Weng appeared in the books first and then O'Donnell wrote this story to place him in the strip. Mister Sun is nasty but he's fighting out of his weight though he doesn't know it. Then the second half in the jungle - it's much more straightforward in many ways, but the fact that Mister Sun is there and the final reveal are seriously twisty. Sad ending. Then The Mind of Mrs Drake - he's not only nasty but completely stupid. Why snatch Jeanne? What advantage there? If he really wanted to get clear away, he and Mrs Drake should have faded into the night before anyone was after them rather than a kidnapping or two and a car chase to focus everyone's attention on them - good way to blow any semblance of a cover! Whatever. Mrs Drake was interesting, the villain was too stupid to be much of a challenge. Though the Commander's part in the final battle was neat. Then Uncle Happy - again, I remembered Steve Taylor from the books so knew what he was hiding, which made his fight with Modesty rather silly. A great pity about Marj - I kept hoping they'd find her, but I guess they had a body anyway. Both of the villains were quite thoroughly nasty, but again they were fighting out of their weight. I liked the last strip with the sums line - a nicely Modesty turn of phrase. It's odd how little I recall the strips and how well I remember the books - well, I've read the books over and over for years, the strips haven't been that accessible. The reprints are great, I just hope they manage to finish the run. There have been several other reprint runs which died out before the end - or were printing scattershot and didn't get all of them.