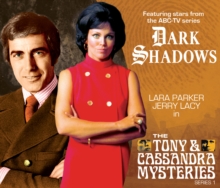 Dark Shadows - The Tony & Cassandra Mysteries
CD-Audio
Description
Join private detective Tony Peterson and the witch Cassandra as they find themselves embroiled in four new tales of terror and intrigue. 1. The Mystery at Crucifx Heights by Philip Meeks. When private investigator Tony Peterson goes undercover to Chicago with his no-nonsense secretary Rita Channing, he has no idea the formidable witch Cassandra Collins is about to make a suitably dramatic entrance back into his life. 2. The Mystery of La Danse Macabre by Zara Symes. Tony and Cassandra knew when they took their first case together that there would be a few bumps in the road but when the supernatural detective duo arrive at Busby Hall in downtown Boston, a dilapidated music hall that's rumoured to be haunted, they'll find that there's more danger afoot than just things that go bump in the night. 3. The Mystery of Flight 493 by Alan Flanagan. When Tony and Cassandra board a fight bound for home they think that their latest case is behind them, until a terrifying creature begins to murder their fellow passengers.
Something is hunting the people on Flight 493, and Tony and Cassandra must deduce what connects it with a story about a little boy who's terrified of what might be under his bed... before it's all far too late. 4. The Mystery of Karmina Sonata by Aaron Lamont. When Karmina Sonata arrives in their office, Tony and Cassandra think it's just another case.
A seance gone wrong, a few violent deaths... Par for the course, if you specialize in the unusual.
But what if this is not just another case? What if something else is going on? And what if, just if, their sins are about to findthem out? Because for Tony and Cassandra, things will never be the same again.
Actors from the series narrate four original stories, based on the classic ABC-TV series with specially composed music and cinematic sound design.
CAST: Jerry Lacy (Tony Peterson), Lara Parker (Cassandra Collins), Julia Dufy (Rita Channing), Sydney Aldridge (Mona Lockhart/ Katerina Lienkov/ Alice McGill/ Sadie Mulholland), Anna-Maria Everett (SisterLayla Kincaid/ Peggy Duntroon/ Veronica Phelps/ Karmina Sonata), Brendan O'Rourke (Vincent Danville/ Max Ellison/ Alfonso Grosso), Greg Patmore (Professor Larry Dennis/ Russ Duntroon/ Danny Lloyd).
Information
Format:CD-Audio
Publisher:Big Finish Productions Ltd
Publication Date:30/11/2017
Category:
ISBN:9781787033139
Also by Philip Meeks