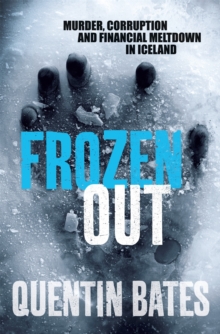 Description
The discovery of a corpse washed up on a beach in an Icelandic backwater sparks a series of events that propels the village of Hvalvik's police sergeant Gunnhildur into deep waters.Although under pressure to deal with the matter quickly, she is suspicious that the man's death was no accident and once she has identified the body, sets about investigating his final hours.The case takes Gunnhildur away from her village and into a cosmopolitan world of shady deals, government corruption and violence.
She finds herself alone and less than welcome in this hostile environment as she tries to find out who it was that made sure the young man drowned on a dark night one hundred kilometres from where he should have been - and why.
Information
Format: Paperback
Pages: 336 pages
Publisher: Little, Brown Book Group
Publication Date: 01/01/2011
Category: Crime & mystery
ISBN: 9781849013604
Free Home Delivery
on all orders
Pick up orders
from local bookshops
Reviews
Showing 1 - 2 of 2 reviews.
Review by edwardsgt
16/06/2015
As I recall the first book I've read set in Iceland, certainly the best. The author is British but spent ten years in Iceland and is married to an Icelander so seems to have captured an accurate picture of life there and the political dynamics. The story revolves around a dogged female police sergeant, determined to get to the bottom of a suspicious death on her patch, despite high-level political interference. A sub-plot revolves around the controversial building of an aluminium smelter and associated hydro-electric scheme, as well as the crisis which hit Iceland's banks. Recommended.
Review by smik
27/08/2015
"She's a big fat lass with a face that frightens horses."That is the description Skuli is given when he asks how he will recognize Gunnhilda.I did wonder how much she would have in common with Ann Cleeves' Vera Stanhope or even Big Marge, Aline Templeton's raw-boned Scot.FROZEN ASSETS is the debut novel in the Gunnhildur serieswhich has now grown to four published titles. Essentially it is a police procedural with a middle aged female police sergeant operating in rural Iceland. As it is the first in the series there is a lot of background material to introduce Gunna and her colleagues to us, so it feels as if it will be best to read the titles in order (see the list below).Gunna is a single parent with a 13 year old daughter so she tries essentially to work a 9 to 5 job, and usually nothing very exciting happens in Hvalvik, and so it is mainly possible. Of course she is constantly on call and locals visit her at home out of hours if they need anything. But the discovery of a body in the Hvalvik harbour changes all that, particularly since there does not seem to be any explanation of how he actually got there.Gunna is pulled into a team based in Reyjavik, and is put in charge of the investigation which seems to have nation-wide implications. A new energy plant is being built at Hvalvik but the company behind it was once government-owned, and it seems that all sort of people, including government ministers are profiting. In addition an anonymously published blog with "inside" sources is highlighting both corruption and sexual pecadilloes happening in high society. Add to that the fact that Iceland's banks are just beginning to feel the financial crisis, and overseas investors are withdrawing from the scheme.I like Gunna's strong character, her persistence, her comprehensive grasp of what needs to be done, and also the different view of Iceland this novel gives. I think I'll definitely be looking into another title in the series.
Also in the Gunnhildur Mystery series | View all