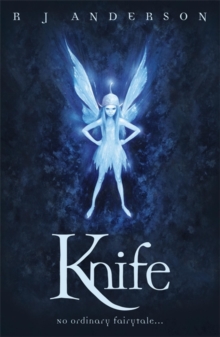 Knife : Book 1
Paperback
Part of the Knife series
Description
Once upon a time, a fairy is born. She lives in an old oak tree at the bottom of a garden with the rest of the fairy folk.
Never has she known a time when life hasn't been hard, with many dangers and much adversity.
But when she becomes the Hunter of the group and learns to do battle in the outside world, her adventures really take off...Don't read this book if you're expecting fairy dust - the last thing Knife is likely to wield is a magic wand...
Information
Format: Paperback
Pages: 320 pages
Publisher: Hachette Children's Group
Publication Date: 01/01/2009
Category: Adventure
ISBN: 9781408303122
Free Home Delivery
on all orders
Pick up orders
from local bookshops
Reviews
Showing 1 - 3 of 3 reviews.
Review by soliloquies
16/06/2015
Highly enjoyable book about a fairy's adventures into the human world. Loved the characterisation and the world in which Knife lives.
Review by LarissaBookGirl
16/06/2015
Faeries have always existed in the Oak; it has been their home for hundreds of years, long before the humans and their house. But there are no longer as many faeries as there once were. They are fading, dying. Their magic is all but gone, and no one can say why.There are a few simple rules all faeries must live by, obey the Queen, never go outside, and above all else stay away from humans. These rules are made to protect the Oak and its faery inhabitants. But what if it is these rules that are slowly killing the faeries?No faery would dare to disobey the Queen, but when one faery has the chance to leave the Oak, to discover the truth of the faeries past; will she be able to save her kind, finding a way to restore the faeries magic? Or will she bring the destruction of the faery world down upon them all in her quest for the truth, and be forced to make the ultimate sacrifice?I have been looking forward to reading this book for a while, and at first I feared it would never live up to the expectations I had built up. But lucky for me it was everything I expected it to be and more.Knife is a story of adventure, danger, secrets, love and faeries; a magical world to lose yourself in. This is the kind of book you can read again and again, with something in it for everyone. It is surprisingly touching and more involving then first appears. The first in a series, this book is a must read.
Review by wyvernfriend
16/06/2015
I wasn't sure what to expect from this one, it didn't look like much and the blurb wan't terribly exciting. Knife is captured by humans and is unsure what they're going to do to her... yeah, not much here that I haven't read before.Knife comes from a tree, she grows up wondering what's going wrong with faery and wondering if it's possible to fix it. The magic in her world is diminishing and things aren't going well for anyone. Knife's curiousity gets her into trouble when she ventures into the human space but what she discovers will change the lives of faerie and human, both.I did like it, I found it an enjoyable read and probably would have read it quicker if I had the US cover.