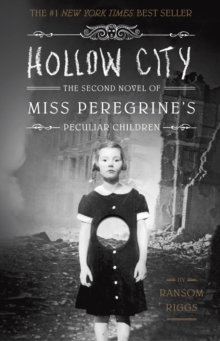 Description
This second novel begins in 1940, immediately after the first book ended.
Having escaped Miss Peregrine's island by the skin of their teeth, Jacob and his new friends must journey to London, the peculiar capital of the world.
Along the way, they encounter new allies, a menagerie of peculiar animals, and other unexpected surprises.
Complete with dozens of newly discovered (and thoroughly mesmerizing) vintage photographs, this new adventure will delight readers of all ages.
Information
Format: Hardback
Pages: 352 pages
Publisher: Quirk Books
Publication Date: 14/01/2014
Category: Horror & ghost
ISBN: 9781594746123
Other Formats
Paperback from £7.45
Hardback from £10.95
Free Home Delivery
on all orders
Pick up orders
from local bookshops
Reviews
Showing 1 - 5 of 86 reviews.
Previous | Next
Review by cal8769
16/06/2015
Another installment of the 'peculiar' children overcoming monsters, this time to cure their mentor. Having read and enjoyed the first book in this series, I was very happy to receive this book from the ER program. It didn't let me down. A great story with creepy pictures to enhance the experience. I would like these books better if they were more stand alone. I will be looking forward to the third!
Review by fyrefly98
16/06/2015
Summary: After the attempted kidnapping of the ymbryne Miss Peregrine by the wights, Jacob Portman and the peculiar children of Miss Peregrine's loop leave Cairnholm island. They're seeking other loops, with other ymbrynes, hoping that the one in London can help Miss Peregrine, who is stuck in bird form. But it's not going to be an easy trek. Neither Jacob nor the peculiar children, who have been living in their loop for 70 years, are used to traveling through England in the midst of World War II. They are being tailed by the hollows, who feed on the souls of peculiars. And if they don't reach help soon, Miss Peregrine may lose her humanity and be stuck in bird form forever.Review: I was so excited for this book. Miss Peregrine's Home for Peculiar Children was something so new, so unexpected, so original, that it won me over completely, and I was hoping that Riggs would be able to recapture the magic in this sequel. But unfortunately, that didn't quite happen, and a lot of it has to do with how he utilized the photographs in the first vs. second book.In the first book, the vintage found photographs were part of the story in a very literal way. It read almost like a scrapbook, with Jacob seeing a photograph in the story, and then that photograph being reproduced for the reader. The fact that these photographs were real objects made it seem like the rest of the story could be real as well, and it wove everything together into a much more cohesive and special whole. In the second book, however, the images are mostly no longer physical photographs from the story, but are instead used almost exclusively as illustration. For example, Jacob & Co. meet the girl on the cover, in the circumstances pictured, but nobody stops to take a picture of her, and yet that image appears in the text as if they had. The disconnect from the way the photos were handled in the first book constantly made me stop and wonder about the context of the photos in the second book - why does this image exist? No one had a camera! - and made the overall effect much less cohesive… which is a shame, because that was a large part of what made the first book so effective.(It also occasionally felt like Riggs had used up his best pictures on the first book, and then had to scramble a little bit to find more and weave them into a story for the second book - a lot of the pictures don't have the same visual impact, and don't seem as seamlessly connected - even leaving aside the question of context - as the pictures from the first book.)But despite all that, this was still a fun read, and I still quite enjoyed it. The story continues to be imaginative and fast-paced, and I enjoyed learning more about the wider world of the peculiars and their history, and meeting new characters with new abilities. I also enjoyed seeing the familiar characters develop and grow. Emma's and Jacob's relationship has never been a huge draw for me - I'm a little weirded out by the fact that not only is she technically in her eighties, but also that she was in a relationship with his grandfather - but watching them and the other characters interact with each other and with their trying circumstances was handled with a deft emotional hand. But really, this story is mostly just fun - kids with strange superpowers being chased by monsters through the London Blitz. What's not to like? 4 out of 5 stars. Recommendation: Definitely not a stand-alone - it picks up minutes after the first one ends, with almost zero recap of the first book. But for fans of the first book, while this one doesn't quite recapture the magic of the first one, it's still a fun read with plenty of twists and turns.
Review by indygo88
16/06/2015
I regret that the first novel in this series wasn't as fresh in my memory as I wish it had been. If I were to go back & do it again, I would've re-read that one prior to starting this. But nevertheless, things began to come back to me gradually after delving into this 2nd book of the Miss Peregrine series. Overall, I think I enjoyed this one a bit more than the first. I never really felt invested in the first one & was a little disappointed after all the hype. But this one kept me engaged from the beginning. Such odd little photos incorporated into these stories, yet Ransom Riggs is able to take a seemingly random assortment of photographs and write a coherent, enjoyable story with them. And like the first, there's a cliffhanger ending. So how long will we have to wait until book #3 comes out? I suppose I'll have to re-read them both before then!
Review by sbenne3
10/11/2015
Like other readers, I do not think this was as good as the first book. It picks up exactly where the first left off and if you haven't read it for a while you will need to go back and read a refresher to have any idea what is going on. Also like other readers, I think the story and character development wasn't as good this time around. Roughly 80% of the plot takes place in about 10% of the pages. I enjoyed the book and the pictures, but felt it could have been more.
Review by JalenV
16/06/2015
My copy of <I>Hollow City</I> came free through LibraryThing Early Reviewers and we are permitted to freely give our opinion of such books. As with the first book, <I>Miss Peregrine's Home For Peculiar Children</I>, this sequel is filled with vintage photographs. Not only did I enjoy Mr. Riggs' explanations for those photos, I found myself eagerly anticipating actually seeing the next one whenever a description made me suspect another photo would be coming.Jacob and the other peculiar children are being hunted by men -- debased peculiars known as wights -- with guns. They find a loop sheltering peculiar animals, including a talking dog and some chickens that lay very useful eggs. From Addison, the dog, they learn that if their Miss Peregrine stays stuck in bird form for more than four days, she'll lose her human memories and just be a bird. They need another ymbryne (a very special type of peculiar) to save her. Miss Wren is the only other ymbryne who is still free and she's in London. The children have two days left. The search for Miss Wren involves danger, narrow escapes from the wights and their hollowgasts (peculiars even more debased than wights), and a harrowing time evading the Nazis' bombing of 1940 London. Along the way, Jacob finds his peculiar powers becoming stronger. Miss Peregrine's home was not precisely Xavier's School for Gifted Youngsters. For one thing, this book makes it clear that Miss Peregrine relied too much on the supposed inviolability of her time loop to keep her charges safe. Unlike Professor X, she didn't spend time training the children to use their powers for offense and defense. Still, they do pretty well on their own. Two of the children were left behind with the peculiar animals. One had a peculiarity that wouldn't have helped that much in a fight. The other had a power that should have made her so powerful the wights wouldn't have stood much chance against her -- if only she'd been properly trained. That lack of training becomes a big liability later in the book. We meet other peculiars along the way. I really liked the way one of them told our group off about a moral shortcoming in them. Another is extremely powerful. Can this peculiar be defeated? The children have distinct personalities, with points good and bad. Well, if Enoch has any good points, he's keeping them well hidden. He's also unable to realize it's his own mouth that keeps others from desiring his company. They aren't all brave, nor are they able to keep a stiff upper lip at all times, which is realistic. Emma and Jacob's romance is growing, but there may not be a future in it.If Miss Peregrine is this series' Professor X, Mr. Riggs introduces us to its Magneto. He is not Alma's best friend. Caul firmly believes that peculiars should be ruling the world. I wouldn't hold out any hope that he'll see the error of his ways and join forces with the good guys.I love the way both books have been made to resemble some 19th and very early 20th century books with their decorated end papers and chapter title pages. They go with the vintage photographs. There are a few instances of the peculiar children using words and expressions they shouldn't know, but I doubt the intended audience will find that jarring since they probably won't know they're too modern. Do be sure to read the last name of the nonpeculiar personae listed after the photos and descriptions of the peculiar personae. It made me smile.The situation at the end of this book is even worse than it was at the end of the first book. I'm looking forward to seeing the third!