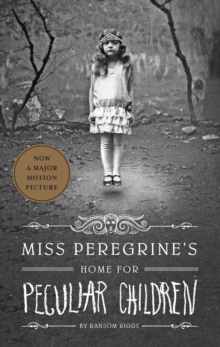 Miss Peregrine's Home for Peculiar Children
Paperback
Description
A mysterious island. An abandoned orphanage. And a strange collection of very curious photographs.
It all waits to be discovered in Miss Peregrine's Home for Peculiar Children, an unforgettable novel that mixes fiction and photography in a thrilling reading experience.
As our story opens, a horrific family tragedy sets sixteen-year-old Jacob journeying to a remote island off the coast of Wales, where he discovers the crumbling ruins of Miss Peregrine's Home for Peculiar Children.
As Jacob explores its abandoned bedrooms and hallways, it becomes clear that the children who once lived here - one of whom was his own grandfather - were more than just peculiar.
They may have been dangerous. They may have been quarantined on a desolate island for good reason. And somehow - impossible though it seems - they may still be alive.
A spine-tingling fantasy illustrated with haunting vintage photography, Miss Peregrine's Home for Peculiar Children will delight adults, teens, and anyone who relishes an adventure in the shadows.
Information
Format: Paperback
Pages: 368 pages
Publisher: Quirk Books
Publication Date: 04/06/2013
Category: Horror & ghost
ISBN: 9781594746031
Free Home Delivery
on all orders
Pick up orders
from local bookshops
Reviews
Showing 1 - 5 of 125 reviews.
Previous | Next
Review by readerbynight
16/06/2015
Copies of authentic Vintage Photos provided from various collections.A most peculiar book, monsters and shadows, are they all based on Jacob's grandfather's fears as a Jewish child in Poland pre-WWII and the only one of his family to survive? He was sent to an orphanage on an island in Wales in the earliest part of the war. But according to Jacob's grandpa, this was no ordinary home. This, Ransom Riggs' first novel, grows on you as you read. There are several vintage photographs to go along with the stories Jacob has heard all his life of the wonderful and unique home, the safe place. The children most certainly have special abilities one could call peculiar, but Jacob is not sure how much to believe now that he is in his teens. Stories of circus acts, stories of terrible monsters, can they possibly be real? Some very strange things can turn out to be real and some that seem real are not to be believed.When his grandfather dies a horrible death and Jacob catches a glimpse of what he has only heard of before, he begins to suspect there is more to the stories. With his last breath, his grandfather cryptically tells him to go to the island, so he can be "safe", and gives him a date: September 3, 1940.So begins this incredible journey where reality and unreality meet head on. If it weren't for Jacob's father's compulsive interest in Ornithology, and the island noted for its birds, the journey might never have begun. It's on the island where the story really takes on a life of its own. A story of lightness and darkness, magic and horror, atmospheric, a life that only Jacob appears to see. Ransom Riggs will entertain you, transfix you, make you think a bit about spatial displacement, where seemingly ordinary children can be truly extraordinary (especially if one is invisible) and everything you thought was a fairy-tale of ogres and monsters in the woods can be true. I really enjoyed this wonderfully strange journey into the author's imagination... or is it all true...Copies of authentic Vintage Photos used in this novel and provided from various Collections are listed in the back of the book attributed to the Collections where known. These photos spread throughout the book provide a real backbone to the story.
Review by Sovranty
16/06/2015
Who wouldn't love a book filled with creepy, antique photographs that carry descriptions beyond reality? After the main character's grandfather dies and he finds himself in Wales, at the recommendation of his therapist and escorted by his father, he soon discovers his grandfather's unbelievable stories were real. He is then left with the decision to cling to what he has always known or abandon it all for the unknown. Slowly progressing and then abruptly ending, it is obvious that the world is becoming more and more afraid of books totaling more than 500 pages. An extremely fast and easy read. It did not make me want to seek the rest of reported trilogy.
Review by Shelby_Kuzma
16/06/2015
This book was very interesting- the pictures really added to the story as well.
Review by amandacb
16/06/2015
I did enjoy how the children of the orphanage were inspired by the (obviously altered) photographs, but then it become the children were just caraciatures of children, not actual persons. The vacillation between the "normal" universe and the "paranormal" universe is not exactly deftly handled, and the plot towards the end got a bit muddled. However, it was worth a read just because the novel is something *different*, and we all like a little something different every now and then.
Review by JQuist
16/06/2015
Miss Peregrine's was really interesting. I came into it thinking it would be really gimmicky and feel forced, with all of the weird photos incorporated into the story. However, Riggs was able to blend the photos into the story rather seamlessly. This was a really fun read, with a lot of quirky, fantastical elements, which ended up being really enjoyable. A great summer read!