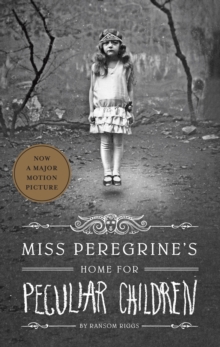 Miss Peregrine's Home for Peculiar Children
Hardback
Description
A mysterious island. An abandoned orphanage. And a strange collection of very curious photographs.
It all waits to be discovered in "Miss Peregrine's Home for Peculiar Children", an unforgettable novel that mixes fiction and photography in a thrilling reading experience.
As our story opens, a horrific family tragedy sets sixteen-year-old Jacob journeying to a remote island off the coast of Wales, where he discovers the crumbling ruins of Miss Peregrine's Home for Peculiar Children.
As Jacob explores its abandoned bedrooms and hallways, it becomes clear that the children who once lived here - one of whom was his own grandfather - were more than just peculiar.
They may have been dangerous. They may have been quarantined on a desolate island for good reason. And somehow - impossible though it seems - they may still be alive.
A spine-tingling fantasy illustrated with haunting vintage photography, "Miss Peregrine's Home for Peculiar Children" will delight adults, teens, and anyone who relishes an adventure in the shadows.
Information
Format: Hardback
Pages: 352 pages, black and white photos throughout
Publisher: Quirk Books
Publication Date: 03/06/2011
Category: Horror & ghost
ISBN: 9781594744761
Other Formats
Paperback from £6.65
Hardback from £10.79
Free Home Delivery
on all orders
Pick up orders
from local bookshops
Reviews
Showing 1 - 5 of 354 reviews.
Previous | Next
Review by fyrefly98
16/06/2015
Summary: When Jacob was little, his grandfather would always tell him stories. Stories about the mysterious house in which he grew up, a house on an island in Wales, a house that was full of children with strange powers - a boy who was immensely strong, a girl with a second mouth in the back of her head, an invisible boy, a girl whose feet never touched the ground - children who are pictured in a series of incredible photographs, children who were hiding at this house because it was the only place where they could be safe from the monsters. As Jacob grew up, he dismissed his grandfather's photographs as trickery and his stories as mere fairy tales, but when he finds his grandfather dead in the woods behind his Florida home - and sees something impossible and monstrous fleeing the scene - he begins to wonder. His parents and his therapist think that he's suffered a mental break, but he convinces them to let him travel to Wales, to hopefully find out the truth beyond his grandfather's cryptic last words once and for all. But what Jacob finds on Cairnholm Island makes him wonder if his grandfather might not have been making up his stories after all... but if that's the case, then Jacob may have just put himself in mortal danger.Review: Saying that something is a "multimedia experience" sounds like cheeseball mid-'90s marketing copy, but in the case of Miss Peregrine's Home for Peculiar Children, I really think it might be true. The gorgeously produced book is peppered with vintage photographs, collected from estate sales and flea markets, with each photograph showing something bizarre, unnerving, or just a little off. Individually, it's easy to look at any one photograph and say "Oh, that's double exposure / a trick of the lighting / etc." However, the absolute best part about this book is how everything fits together into a whole that's greater than the sum of the parts. The photos complement and amplify the atmosphere of the story, and the story weaves itself around the photos that they stop feeling like disparate found objects, and more like interconnected pieces from a life, enough to make you stop and think "Well, what if....?"I don't know whether the photographs inspired the story, or if the story dictated which photos to use (probably some of each), but the overall effect is not like anything I've ever come across before. The story is funny and poignant by turns, and effectively creepy throughout, enough to make me wish I'd read it on a foggy October evening. It's not just the bad guys that are creepy, either... even the good guys have a disconcerting, haunting air about them; especially so compared to Jacob, whose perspective and narration style is sufficiently modern to make it a sharp counterpoint to some of the more fantastical things he encounters. Suffice it to say, this book gave me the shivers more than once. The ending, while it was consistent with the rest of the story, and a good resting place, didn't manage to tie up all of the threads of the book, and is rather obviously providing set-up for a sequel. On the one hand, that kind of open-endedness usually bothers me, but if Riggs's next book is anything near as fascinating as I found this one, the unresolved nature of this ending will be well-earned. 4.5 out of 5 stars.Recommendation: Definitely recommended for fans of modern YA novels, especially those with a bit of a fantastical twist to them; anyone who appreciates a good haunted house story; and especially anyone with an interest in photography and the power of images. This is definitely a print-only story, though... I'm not usually one to dissuade people from audiobooks, but the photographs are such an integral part of the story that it would be a shame to miss them.
Review by ken1952
16/06/2015
A fine fantasy novel, accompanied by eerie photographs, about a teen traumatized by his grandfather's death. His desire to learn the truth about his grandfather's life leads him to an island off Wales where he learns the secrets, wonders and dangers of Miss Peregrine's Home for Peculiar Children. Looking forward to the next installment.
Review by auntmarge64
16/06/2015
What a treat this book is! Part suspense, part fantasy, and beguilingly unique. A teenage boy (Jacob) finds his grandfather dying - the grandfather who used to tell fantastic stories of his childhood at a strange island orphanage in Wales and illustrate his tales with photos of odd-looking children and descriptions of monsters. The grandfather pleads with him to go to the island, where he'll be safe, whispers some enigmatic phrases and then "I should've told you a long time ago", and dies, and as Jacob copes with his grief, he determines to travel to the island and search out the truth. What he finds will forever change his life.Magical, thrilling, and lovingly illustrated with the photos and letters described in the story. This is one of those books that will appeal to adults and older kids equally, and I'm going to pass it on to my 11- and 20-year old nieces and see what they think.
Review by angelikat
16/06/2015
Early ReviewerMiss Peregrine's Home for Peculiar Children, written by Ranson RiggsThis book starts with the interesting concept of using vintage found photographs to help illustrate the story, and it works out wonderfully. The photographs really help bring key parts of this story along, the story being that of a young man investigating the death of his beloved, if eccentric grandfather. I will not give too much away as I found the story to be a very good one, so good in fact that I finished it in one marathon sitting, I just couldn't seem to be able to put these peculiar children away until I had traveled with them until the finish. What I will tell you is how these found photographs seem to have been taken specifically for this book rather than parts of the book being written to accommodate the photographs, characters show up in multiple photos but they look similar enough that they very well could be the exact same people at different times of their lives. It truly is a bit spooky. Overall, I highly recommend this book as it is very well written and extremely entertaining without any bogginess or slow chapters, and I only hope this is not the last we see of Miss Peregrine.
Review by arielfl
16/06/2015
This seems to be a very polarizing book. People seem to either love it or hate it. Sadly I was on the disappointed side. I won't rehash the plot, there was so little and it seems to be completely raked over in other reviews. The main problem for me was that the pictures were the focus and the story was an after thought. There are places where the author is really reaching to connect the pictures to the story. A secondary problem was that the main character was making out with a girl who made out with his grandfather. Too weird for me. I thought the creepy pictures would facilitate a great story but something got lost in the execution of the book. I didn't connect enough to the characters in the book to want to pursue a sequel. I think it will be enough to leaf through the pictures. By the way, I read this for the R.I.P. challenge currently being held over at Stainless Steel Droppings. You should swing by and check out some of the other reviews as this seems to be a popular challenge choice.