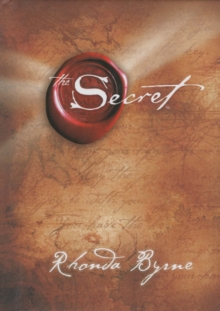 Description
In 2006, a groundbreaking feature-length film revealed the great mystery of the universe - The Secret.
Later that year, Rhonda Byrne followed with a book that became a worldwide bestseller. Fragments of a Great Secret have been found in the oral traditions, in literature, in religions and philosophies throughout the centuries.
For the first time, all the pieces of The Secret come together in an incredible revelation that will be life-transforming for all who experience it.
In this book, you'll learn how to use The Secret in every aspect of your life - money, health, relationships, happiness, and in every interaction you have in the world.
You'll begin to understand the hidden, untapped power that's within you, and this revelation can bring joy to every aspect of your life.
The Secret contains wisdom from modern-day teachers - men and women who have used it to achieve health, wealth and happiness.
By applying the knowledge of The Secret, they bring to light compelling stories of eradicating obstacles, and achieving what many would regard as impossible.Discover the book which has been changing millions of lives around the world.
No matter who you are, where you are right now, no matter what you want - when you realise The Secret you can have anything.
Information
Format: Hardback
Pages: 224 pages, 4c. 250 illustrations
Publisher: Simon & Schuster Ltd
Publication Date: 04/12/2006
Category: Thought & practice
ISBN: 9781847370297
Other Formats
eAudiobook MP3 from £15.08
Hardback from £10.65
CD-Audio from £9.65
EPUB from £8.99
Paperback from £9.89
Free Home Delivery
on all orders
Pick up orders
from local bookshops
Reviews
Showing 1 - 3 of 3 reviews.
Review by helenaharper
16/06/2015
The 'secret' that this book is about is the Law of Attraction (LOA) and, if you know nothing about the LOA, then this book is a good starting point. It explains what the LOA is (you get what you focus on) and then goes on to illustrate how you can apply this 'secret' to achieve what you truly want with regard to money, relationships, your health and the world. The LOA is based on the energy vibrations we are emitting (and these are determined by the types of thoughts we have). Gratitude is a powerful process for shifting our energy onto higher planes and bringing more of what we want into our lives and when we feel love, we are emitting the highest vibration of all. What I liked about the book are the summaries at the end of each chapter and the stories that are told to illustrate the points that are being made. One of the most astounding is the story about Morris Goodman, 'The Miracle Man'. He was completely paralyzed after he crashed his aeroplane and could only blink his eyes. The doctors said he would remain like that for the rest of his life, but nine months later he walked out of the hospital on his own two feet. These are inspiring stories, but there is more to the LOA than is covered in this book. However, it is a good introduction to the whole topic and, if you have an open mind, it will most definitely broaden your horizons about what is possible and achievable in life.
Review by esoldra
16/06/2015
I read a great deal of spiritual texts and indeed at the period I read this I was very much needing a new positive thinking approach. On each page, this book told me to think positively, that is all. Not how to connect to this 'inner secret' each page is a repeat of the one before, in a longer sentence. How many times can you repeat one line and make a fortune - now that is a good secret.
Review by garbostyle1
16/06/2015
I found this book to be fascinating and life changing. I believe in the concepts presented in the book and at the same time I know it will be a difficult task to be diligent enough to apply the principles presented to your own life. If it were easy, everyone would do it. Overall , I found the material helpful,informative, uplifting and thought provoking. I highly recommend this book to anyone looking to make some changes to their stagnant state . It has motivated me to become a better person and have a richer life. It gives me hope to know that it is in fact within my grasp. This book is one of those that I purchase for anyone I truly care about.