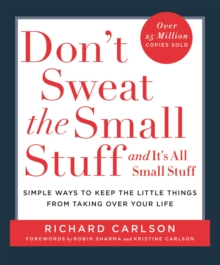 Don't Sweat the Small Stuff : Simple ways to Keep the Little Things from Overtaking Your Life
Paperback
Description
So many of us would like to live our lives in a calmer and less stressful way, and be able to let go of our problems.
This is the book that can show you how to stop letting the little things in life drive you crazy.
Dr Richard Carlson teaches us, in his gentle and encouraging style, simple strategies for living a more fulfilled and peaceful life.
We can all learn to put things in perspective, and by making the small daily changes he suggests, including surrendering to the fact that sometimes life isn't fair, and asking yourself, 'Will this matter a year from now?', Dr Richard can help everyone to see the bigger picture.Repackaged to inspire and guide a new generation, this is a Mind, Body and Spirit classic.
Information
Format: Paperback
Pages: 272 pages, None
Publisher: Hodder & Stoughton General Division
Publication Date: 01/02/1998
Category: Coping with stress
ISBN: 9780340708019
Free Home Delivery
on all orders
Pick up orders
from local bookshops
Reviews
Showing 1 - 2 of 2 reviews.
Review by ablueidol
16/06/2015
Not rocket science advice but a timely reminder of some small practical tips that get the blood pressure down and put things in perspective. One of my favourites is one someone is driving you up the wall with a whole range of negative behaviour, take time out to consider what this is teaching you. Used this with a Boss who is a sexist, megalomaniac bully(sadly not an exaggeration!) to make sure that I examined any bit of my behaviour that could fall into the same way of behaviouring.
Review by Steve55
16/06/2015
'The purpose of life isn't to get it all done, but to enjoy each step on the journey', says Richard Carlson as the core message of this simple but engaging book.The title encourages us not to get drawn into living our lives constantly dealing with the small stuff. It's referring to the way that things 'of the moment' gain an unwarranted importance which consumes our time, leaving us with scarcely the time to ask ourselves what is important, much less the time to pursue it.The book is structured as 100 chapters, each of only one or two pages and each dealing with a simple strategy to retrieve our lives from the reactive state that we too easily find ourselves in.The message of the book is don't waste time on the small stuff and of course, however important we may believe our lives are, if we stand back far enough, everything becomes small stuff. Several of the chapters are used to help the reader recognise this perspective. The approach to this illustrates the simplicity of the ideas presented. For example in the midst of an argument to become aware of your breathing and count to ten. To ask yourself whether the issue you are fighting for will be important to you in a year's time. To reflect that with the passage of a period as brief as 100 years, none of us will still be around. Other chapters offer approaches that can help you change your approach and for example become more patient, considerate, thankful, and help you gain control of your perspective on life.The ideas are simple, but this is their strength. They reflect what we already know. Richard doesn't set out to teach ideas, rather to gently remind us and encourage us to create a little space to adopt them in our all too reactive lives.