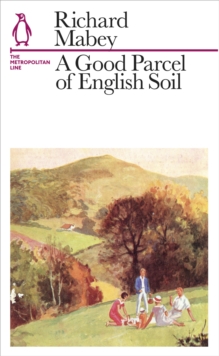 A Good Parcel of English Soil : The Metropolitan Line
Paperback / softback
Description
Richard Mabey, one of Britain's leading nature writers, looks in A Good Parcel of English Soil at the relationship between city and country, and how this brings out the power of nature - part of a series of twelve books tied to the twelve lines of the London Underground, as Tfl celebrates 150 years of the Tube with PenguinAlso available in a boxsetRichard Mabey's A Good Parcel of English Soil, his essay on the Metropolitan line, is one of the most compelling segments of Penguin's Underground Lines ... eclectic and broad-minded ... elegantly written' Observer'Authors include the masterly John Lanchester, the children of Kids Company, comic John O'Farrell and social geographer Danny Dorling.
Ranging from the polemical to the fantastical, the personal to the societal, they offer something for every taste.
All experience the city as a cultural phenomenon and notice its nature and its people.
Read individually they're delightful small reads, pulled together they offer a particular portrait of a global city' Evening Standard'Exquisitely diverse' The Times'Eclectic and broad-minded ... beautifully designed' Tom Cox, Observer'A fascinating collection with a wide range of styles and themes.
The design qualities are excellent, as you might expect from Penguin with a consistent look and feel while allowing distinctive covers for each book.
This is a very pleasing set of books' A Common Reader blog'The contrasts and transitions between books are as stirring as the books themselves ...
A multidimensional literary jigsaw' Londonist'A series of short, sharp, city-based vignettes - some personal, some political and some pictorial ... each inimitable author finds that our city is complicated but ultimately connected, full of wit, and just the right amount of grit' Fabric Magazine'A collection of beautiful books' Grazia[Praise for Richard Mabey]:'Radiant, tingle-making prose has earned Mabey literary prizes and a multitude of fans', Daily Mail'Richard Mabey is a man for all seasons, most regions and every kind of landscape', Andrew Motion Financial Times'Refreshing, droll, politically alert, occasionally self-mocking, he has the enviable ability both to write historical overview and also to slip into the woods like a dryad, bringing us back to the trees themselves, their colours and lights and textures', GuardianRichard Mabey has been described as 'Britain's greatest living nature writer' and is a frequent contributor to the BBC.
Information
Format:Paperback / softback
Pages:112 pages
Publisher:Penguin Books Ltd
Publication Date:07/03/2013
Category:
ISBN:9781846146169