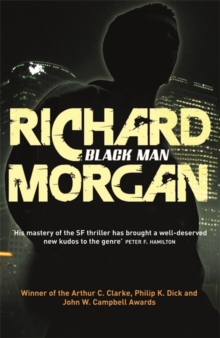 Description
One hundred years from now, and against all the odds, Earth has found a new stability; the political order has reached some sort of balance, and the new colony on Mars is growing.
But the fraught years of the 21st century have left an uneasy legacy ...Genetically engineered alpha males, designed to fight the century's wars have no wars to fight and are surplus to requirements. And a man bred and designed to fight is a dangerous man to have around in peacetime.
Many of them have left for Mars but now one has come back and killed everyone else on the shuttle he returned in. Only one man, a genengineered ex-soldier himself, can hunt him down and so begins a frenetic man-hunt and a battle survival. And a search for the truth about what was really done with the world's last soldiers. BLACK MAN is an unstoppable SF thriller but it is also a novel about predjudice, about the ramifications of playing with our genetic blue-print.
It is about our capacity for violence but more worrying, our capacity for deceit and corruption. This is another landmark of modern SF from one of its most exciting and commercial authors.
Information
Format: Paperback
Pages: 640 pages
Publisher: Orion Publishing Co
Publication Date: 01/11/2007
Category: Science fiction
ISBN: 9780575078130
Free Home Delivery
on all orders
Pick up orders
from local bookshops
Reviews
Showing 1 - 5 of 7 reviews.
Previous | Next
Review by wyvernfriend
16/06/2015
An interesting mix of science fiction and murder mystery. The main character is Carl Marsalis, working for the UN hunting down his own kind, genetically engineered men, designed as super-soldiers, called 13's or twists, unwanted and despised.He's currently in a Florida prison, held for some nebulous time because he was caught financing an illegal abortion. Released to hunt another 13, a man who was woken too soon on a trip back from Mars and resorted to cannibalism to survive. Now there's brutal slayings across America. Carl teams up with some others to hunt this dangerous man.It could have been shorter and lost some of the lag. I didn't really feel drawn to the characters and somehow felt that it was just filling time to the rest of the story. A good read, but not the best I've read.
Review by fojxl1
16/06/2015
Good, but getting a bit samey.
Review by lewispike
16/06/2015
This is quite a hard book to review because there are so many things going on it.If you're a fan of Morgan's you'll feel at home with the "alpha male" soldier character who is central to the book, although the milieu is much more cyberpunk than far future sci-fi. Except, it's not cyber, it's a genetically engineered future and the aftermath of accords to limit the effects of a range of GE experiments on people including the "super soldier" variant 13's. For the scientists out there, like me, there's a neat side step of the nature v nuture argument, because the super soldiers were also trained from birth as special forces soldiers, although the society they are in is firmly in the "nature" camp.It's also a rather dystopian future of America vision - and a fascinating one. We don't find out everything about the new America, but there is a North Eastern (and basically only mentioned) coalition, a Rim (Pacific states) high-tech, high-finance state, and Jesusland - a fundamentalist, racist, collapsed republic.Then there are all the discrimination issues - against the variant 13's and other "twists", in Jesusland against black people and so on.Then, just to add to the fun, there's supernational agencies. There are basically only two, the UN has teeth now, and COLIN, the Colonisation Initiative, who run their own police, trample over local law enforcement and all the rest.And that's all BEFORE you get to the plot.The plot is basically that one of the variant 13's is on a killing spree. It's apparently random murders, but a "tamed" variant 13 is called in to hunt him down. There are stories and strands around the themes above that change and twist this, plus a love story or two and a few other wonderful little side trips.Truly excellent.
Review by ennui2342
16/06/2015
Richard Morgan back on form after a poor showing with Market Forces. Possibly a bit overly long, but exceptionally well written and plotted. Highly recommended.
Review by Scriptopus
16/06/2015
A beautifully written, heartbreaking, gut-wrenching novel about a future in which what we think of as essential, innate human traits have been commodified - sexuality, masculinity, leadership, love, loyalty. The world-building is breathtaking. The protagonist is powerful, brave, brilliant, damaged and ultimately tragic. I think Black Man works on every level; lovers of the speculation of science fiction, the thrills of crime fiction and the craft of literary fiction should all find their respective itches scratched. It's known and appreciated within the SF community, but deserves to be far more widely read.
Also in the Gollancz S.F. series | View all