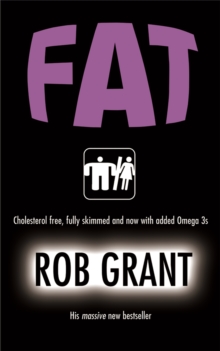 Description
Rob Grant's new novel is a revelation. After INCOMPETENCE we would all have expected a killingly funny satire. And in its satire of our obsession with body image, of how the media makes us what we are FAT is certainly that.But in its depiction of Grenville, a fat man at his wits end with the need to be thin; of Hayleigh, a teenage girl obsessed with her terror of being fat and of Jeremy, the self-absorbed, self-adoring 'conceptualist' employed to promote the government's new 'Fat Farms' Rob Grant has given us, yes a very, very funny book, but also an immensely moving and personal novel about how we all feel about our bodies.As Grenville deals with the humilation and daily indignity of being fat, as Hayleigh struggles to deal with her anorexia and as Jeremy comes to terms with the dangerous lies at the centre of the government's new health regime FAT takes us on a hilarious and thought-provoking journey through our all-consuming obession with fat.This is a hilariously moving, movingly hilarious novel and marks a massive step-change in Rob Grant's growth as a writer.
Here is a hugely commerical new voice in mainstream, high concept, high in poly-saturates, commercial fiction.
It's also safe to say that with this new novel, he's writing about what he knows ...
Information
Format: Paperback
Pages: 336 pages
Publisher: Orion Publishing Co
Publication Date: 12/07/2007
Category: Science fiction
ISBN: 9780575078208
Free Home Delivery
on all orders
Pick up orders
from local bookshops
Reviews
Showing 1 - 3 of 3 reviews.
Review by wyvernfriend
16/06/2015
Only by a serious stretch of my imagination would I refer to this as SF and actually as SF it won't get the market it really should have. This is a near future social satire. Extrapolating from some recent comments on Fat and overweight issues this is a book that looks at some conclusions about these issues that follow. Instead of being decades or centuries away this is a story about the day after tomorrow.This is the story of three characters, Grenville Roberts, a chef who has slipped into obese while he wasn't watching, a man having the worst day of his life. Jeremy Slank, a PR man, or as he prefers a Conceptuologist, who has got the job of promoting the Government's new Fat Farms and Hayleigh, a teenager obsessed with food and weight and determined to impress her pop star idol, some day. Along with these three there's Jemma Bartlet, a research assistant who is the scientific mouthpiece for the author and lust object for Jeremy.It has hot topics, polemics about statistics, blog entries, an extract from Grenville's book on cooking (all about cooking eggs!) and it also has a rushed ending. Grenville and Hayleigh represent the poles of the fat divide and I'm not sure that they're not too much of the poles apart, but then again there wouldn't have been as much humour about some situations. Some of the humour though is more nervous humour, the kind of "there but for the grace etc." humour that gives you a slightly guilty aftertaste.My favourite character was Grenville, I have some weight issues myself and it never fails to annoy me how some people assume it's easy to loose weight (it isn't), that I'm not trying (go away) that I don't exercise (sometimes I don't) and that I don't eat healthily (not all the time but few people do, I usually eat healthily and slowly but surely I'm increasing the healthy to unhealthy ratio). The book also discusses the abuse of statistics which is a pet topic of mine. Overall? It's not a bad book but it's not a great book, readable but sometimes the author's message overwhelms the story.
Review by rickya100
16/06/2015
Ok, I'll keep this short as there isn't that much to say about this book. Is it in the same league as Tom Sharpe novels? No way. Is it an enjoyable read for a few hours, giving the reader a chuckle of two? Yes. There you go. Don't expect to cry with laughter but it does for a long journey or stint on a plane.
Review by candlemark
16/06/2015
A whole lot of infodumpin' goin' on in this one. That said, the narrative was well-constructed and I did find myself caring about the characters, especially Grenville and Hayleigh - it was much harder to get involved with Jeremy and Jemma, as they were mostly there simply as story framing devices and to get across all those infodumps about salt, cholesterol, fat, etc.The infodumps were, at least, highly valuable in terms of combatting the common perceptions of health and wellness as presented by the media, the government, and the diet/pharmaceutical industries - which was the entire point. I would've liked to hear more about the myth that fat people can't be fit, though...it was hinted at with Grenville's first assessment at the fitness club, but never delved into. And, frankly, if you're going to weave fiction with agenda-based nonfiction infodumps, you might as well go all the way.
Also in the Gollancz S.F. series | View all