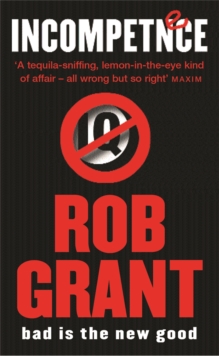 Description
Bad is the new good.In the not too distant future the European Union enacts its most far reaching human rights legislation ever.
The incompetent have been persecuted for too long. After all it's not their fault they can't do it right, is it?
So it is made illegal to sack or otherwise discriminate against anyone for being incompetent.And now a murder has been committed and our possibly incompetent detective must find out who the murderer is.
As long as he can find directions to get him through the mean streets.
Information
Format: Paperback
Pages: 336 pages
Publisher: Orion Publishing Co
Publication Date: 01/10/2004
Category: Science fiction
ISBN: 9780575074491
Free Home Delivery
on all orders
Pick up orders
from local bookshops
Reviews
Showing 1 - 4 of 4 reviews.
Review by helen10
16/06/2015
I loved this book, silly as it was. I have not had such a good laugh in ages. I normally go for horror, thrillers, biogs, etc. This is a really funny read.
Review by jessicariddoch
16/06/2015
I know that I originally picked up this book because of the connection to red dwarf, one of the few Tv series in recent years that is both science fiction and brittish. What I liked most about this book is the fact that the humor and situations were britished based, narry an american in site. The basic humor in the book is based on the premise that anti discrimination legislation had been taken to extreams, you can nolonger be sacked, or discriminatied against for being obviously incapable of doing a job. leading to lots of people being in positions that they are completly incapable of doing. The main character than has to navigate this world and live with the consequences. The main character is obvously capable but is thwarted by the situations that this puts himself in. When he hires a car he finds that the person issuing the cars is incapable of going through a simple checklist with him, so he signs anyweay and finds that the car is missing an important componant that means he cannot drive away. this leads him to in the end hire another car as he cannot, after a humerous try to make it work, dirive it at all. this book is impossible to discribe well, you will simply have to read it
Review by voodoochilli
16/06/2015
Fun little satire of a book. The sort of thing that I would recommend reading on holiday - not too taxing but a good read to have sat outside in the sunshine with a nice drink. Semi-reminiscent of the red dwarf series in the sense that it shares a lot of the same humour - mostly simple and silly observations about people. Still, rather entertaining and worth picking up.
Review by DavidSaul
16/06/2015
Probably the funniest book I've read, it literally had me in tears laughing - an extremely rare feat for a book (at least for me)!
Also in the Gollancz S.F. series | View all