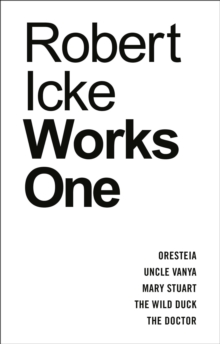 Robert Icke: Works One : Oresteia; Uncle Vanya; Mary Stuart; The Wild Duck; The Doctor
Paperback / softback
Description
Robert Icke's thrilling and radical adaptations of some of the great textsof Western theatre have enthralled theatregoers in London, in New Yorkand around the world.
This is the first collection of his multi-awardwinningwork. Includes:The Wild Duck: A new version of Ibsen's masterpiece about the nature of truth, in which a stranger intervenes to reveal the lies in the past of a family, with tragic consequences. Uncle Vanya: Chekhov's late masterpiece examines human behaviour in all of its beautiful, terrible, laughable contradiction. Oresteia: Orestes' parents are at war. A family drama spanning several decades, a huge, moving, bloody saga, Aeschylus' greatest and final play asks whether justice can ever be done - and continues to resonate more than two millennia after it was written. Mary Stuart: Schiller's political tragedy takes us behind the scenes of British history's famous rivalry between Elizabeth I and Mary Queen of Scots.
The Doctor: Very freely adapting Professor Bernhardi by Arthur Schnitzler, Robert Icke has written a gripping moral thriller that uses the lens of medical ethics to examine urgent questions of faith, belief, and scientific rationality.
Information
Format: Paperback / softback
Pages: 464 pages
Publisher: Bloomsbury Publishing PLC
Publication Date: 20/04/2020
Category: Theatre studies
ISBN: 9781786829078
Also in the Oberon Modern Playwrights series | View all