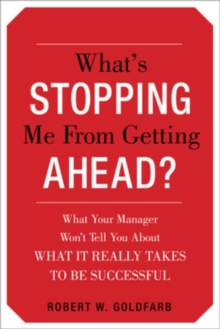 What's Stopping Me from Getting Ahead?
Paperback / softback
Description
An expert management coach with over thirty years of experience helping professionals get to the next stages of their careers, identifies-and helps readers break-the 12 unconscious habits and behaviors that are holding them back from the corner office. About the BookFor more than 30 years, Robert W. Goldfarb has advised and coached managers on five continents in organizations of every type who got to a certain level of success in their careers and then stalled. They were smart, had the right experience and a good track record, and had put in the time and energy to get them to where they were. But something was holding them back from getting to the highest level of management, and despite their obvious intelligence, they couldn't tell what it was.Now, in the tradition of What Got You Here Won't Get You There, Robert Golfarb isolates the 12 top behaviors that mid- to upper-level managers exhibit at work that keep them from getting to the corner office. Some of these traits-a drive for results, strong knowledge of their industries, and networking with their peers-may have gotten them where they were, but need to be altered and adapted in order for them to get to the higher levels of management. The book is organized in an ingenious "What You Do" and "What Others See" structure, helping readers truly understand how their well-intentioned behaviors can wind up sabotaging their careers. Using case histories and actual examples from corporations, along with specific, actionable strategies for breaking these bad behaviors, Robert Goldfarb will help professionals everywhere break through their career plateaus and break into the corner office.
These self-defeating behaviors are: Not demonstrating their true personal integrity.
Not taking enough time to make sure their boss looks good.A laser-like focus on getting the job done well without appreciating the contributions of others.Using too much humor to build camaraderie and to foster collegial work environments.Lacking real passion for change.Relying solely on intellectual analysis with little reliance on "gut" feelingsFocusing on problems rather than solutionsA reluctance to properly manage former peers and supervisors.Under-appreciating the enormous value of diversity in the workplace.Not fully acknowledging the contributions of others on their teams.Always swinging for the fences and winning every battle, instead of taking a long range view of the situation.
Free Home Delivery
on all orders
Pick up orders
from local bookshops