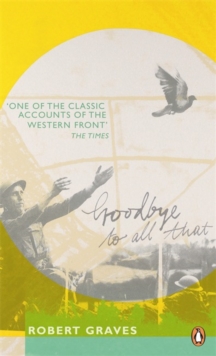 Goodbye to All That
Paperback
Description
'There has been a lot of fighting hereabouts. The trenches have made themselves rather than been made, and run inconsequently in and out of the big thirty-foot high stacks of bricks; it is most confusing.
The parapet of a trench which we don't occupy is built up with ammunition boxes and corpses . . .'In one of the most honest and candid self-portraits ever committed to paper, Robert Graves tells the extraordinary story of his experiences as a young officer in the First World War.
He describes life in the trenches in vivid, raw detail, how the dehumanizing horrors he witnessed left him shell-shocked.
They were to haunt him for the rest of his life.
Information
Format: Paperback
Pages: 368 pages
Publisher: Penguin Books Ltd
Publication Date: 07/04/2011
Category: Autobiography: general
ISBN: 9780241951415
Other Formats
Paperback from £6.85
CD-Audio from £14.59
EPUB from £3.99
Hardback from £7.59
Free Home Delivery
on all orders
Pick up orders
from local bookshops
Reviews
Showing 1 - 2 of 2 reviews.
Review by Vivl
16/06/2015
By and large, a fairly light (surprisingly), anecdote-filled account of Graves' early life, up to the age of 30 or so. The pre- and post-WWI passages are diverting without being ground-breaking. Sadly, for me the most disappointing section is that which deals with his experiences on the Western Front in WWI. Apparently he set out to write it up in the form of a novel and later changed his mind. His adaptation of that material to memoir form is dry, disjointed, confusing and uninspiring. Perhaps that's an accurate reflection of how things were in that situation, but it doesn't make for an emotionally charged reading experience. Perhaps I'm too frivolous, but I prefer Pat Barker's fictionalisation of these events in the <i>Regeneration</i> trilogy.
Review by edwinbcn
16/06/2015
If you only want to read one book about the trench war and World War I, or the Great War, as it was called in its time, Goodbye to all that by Robert Graves would be an excellent choice. Graves was one of the long-term, active combattants. Goodbye to all that is a first-hand account of the horrors of trench warfare. It describes all the images which have since become emblematic for that event: snipers, gas, gas masks, severed limbs, etc. Horrors including sinking once fingers into a putrified corps while groping in the dark under shell fire, comrades who are felled by a shot in the skull from a sniper, and soldiers being blown up by grenades. There is also a passage in which he described the successive colours of the stages of decomposition of a corpse. Gruesome! Robert Graves survived these horrors much longer than most other soldiers, apparently through a great deal of luck, and the sensible attitude to not take any unnecessary risk, and pursuing a strategy of survival.The first 80 pages, or so, deal with Graves time at boarding school in England, and the reality of war comes on very soon. The writing is very engaging, and the whole book is a very easy read. Towards the end, Graves descibes many literary figures he met, such as Siegfried Sassoon whom he actually met at the front, and other authors, later such as Aldous Huxley. The final 100 pages of the book seem to be dragging a bit, as they describe Graves life after the war.Goodbye to all that is a very good introductory read to understanding the action of the Great War.