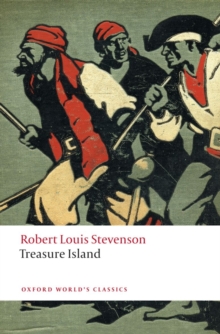 Treasure Island
Paperback
Description
'there were only seven out of the twenty-six on whom we knew we could rely; and out of those seven one was a boy ...' When a mysterious seafarer puts up at the Admiral Benbow, young Jim Hawkins is haunted by his frightening tales; the sailor's sudden death is the beginning of one of the most exciting adventure stories in literature. The discovery of a treasure map sets Jim and his companions in search of buried gold, and they are soon on board the Hispaniola with a crew of buccaneers recruited by the one-legged sea cook known as Long John Silver. As they near their destination, and the lure of Captain Flint's treasure grows ever stronger, Jim's courage and wits are tested to the full.
Stevenson reinvented the genre with Treasure Island, a boys' story that appeals as much to adults as to children, and whose moral ambiguities turned the Victorian universe on its head. This edition celebrates the ultimate book of pirates and high adventure, and also examines how its tale of greed, murder, treachery, and evil has acquired its classic status.
ABOUT THE SERIES: For over 100 years Oxford World's Classics has made available the widest range of literature from around the globe. Each affordable volume reflects Oxford's commitment to scholarship, providing the most accurate text plus a wealth of other valuable features, including expert introductions by leading authorities, helpful notes to clarify the text, up-to-date bibliographies for further study, and much more.
Information
Format: Paperback
Pages: 272 pages, one map
Publisher: Oxford University Press
Publication Date: 13/01/2011
ISBN: 9780199560356
Other Formats
Paperback from £2.50
CD-Audio from £8.59
Hardback from £5.25
Free Home Delivery
on all orders
Pick up orders
from local bookshops
Reviews
Showing 1 - 3 of 3 reviews.
Review by kaulsu
16/06/2015
I read this aloud to my son twenty years ago--and could remember none if it! I did enjoy this re-read: it is apparent why young boys would thrill to the possibilities. In actuality, it has a more probable story line than many YA books for boys written today. In that sense, timeless.
Review by feelinglistless
16/06/2015
Never having been a fan of the pirate genre I entered communication with Robert Louis Stevenson's Treasure Island, one of its pillars, with some trepidation especially since as the author's biographer Claire Harmon notes like his Jekyl and Hyde, it's so well known that it hardly requires being read at all, "Long John Silver is more real to most people than any historical buccaneer." I'd like to offer a narrative of rediscovering the genre, but young Jim Hawkins is such a greedy, repellent narrator and the various pirates so difficult to understand and the story points so subtly telegraphed, I was less thrilled than appalled. That Silver and Gunn are the most entertaining figures it does go without saying, but as Harmon hints because their old bones have been resurrected so many times since, the original now seems prosaic and slothful. But such things are not Stevenson's fault, of course.
Review by nielspeterqm
16/06/2015
This vastly influential pirate novel, first published 1881 (but with its story set in the middle 1700s) is of course superb, warmly recommended for everyone.But first a warning on what *not* to expect from its pirates. With all the pop-glamour surrounding buccaneering today, it's a surprise to see how the pirates in Treasure Island are depicted. Dangerous & bloodthirsty, but also seemingly rotten & somewhat incapable, with the only benefit of the doubt befalling Long John Silver.There may be undertones & hidden messages, but at face value most of the demonstrated competence is on the side of the British Empire, with her apparently disciplined sailors, stern captains, effective gentry, & fearless magistrates. Not to mention the Union Jack flag, furiously pitted against the skull & crossbones Jolly Roger.Modern pirate stories, in which imperial Britain may come out less favourably, have many fans. But the more old-fashioned point of view in Treasure Island is precisely what makes it interesting to modern readers. It highlights the multiple myths surrounding this pioneering age of global navigation.Also, to grasp the mystique of the treasure, it helps to understand how outlandish it is. The treasure buried on the island is estimated at £700,000. This sum was at the time of the story vast almost beyond comprehension. A booty share of £100,000 placed at, say, 5% interest, would yield the annual income of £5,000, enough to compete with the (extremely select) truly wealthy gentry, even with parts of the aristocracy. In Jane Austen's regency novel Emma, the heroine's father has a fortune of £30,000, repeatedly pegging him as "rich", certainly the richest man in the area. Yet his income is merely £1,500 a year.Even £1,000 a year (an elite threshold already) gave you resources for a good house & a private carriage - with all the needed servants. This is exactly the sort of respectability that many of the book's pirates & misfits articulate so loudly. Repeatedly, almost hypnotically, they utter their ultimate fantasy: owning a carriage.This isn't mere greed. It's the longing for an existence redeemed.
Also by Robert Louis Stevenson | View all
Also in the Oxford World's Classics series | View all