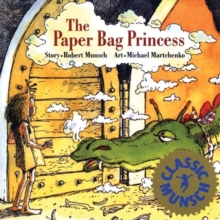 The Paper Bag Princess
Paperback
Description
First published in 1980 and with over four million copies in print, The Paper Bag Princess (the story of a resourceful princess and her useless prince) has captured the hearts of readers young and old all around the world.
The New York Times called it ""one of the best children's books ever written"" and it has appeared countless times on ""best books"" lists.
The story reverses the ""princess and dragon"" folklore stereotype and celebrates feisty females everywhere, making it a firm favourite with female readers of all ages, as well as women's groups, teachers and librarians.
Information
Format: Paperback
Pages: 32 pages
Publisher: Annick Press Ltd
Publication Date: 01/05/1980
Category: Picture books
ISBN: 9780920236161
Free Home Delivery
on all orders
Pick up orders
from local bookshops
Reviews
Showing 1 - 5 of 49 reviews.
Previous | Next
Review by tripleblessings
16/06/2015
A classic role reversal, in which the princess Elizabeth outsmarts the dragon and rescues the prince. When the prince Ronald is ungrateful and critical of her appearance, she says "Ronald, you are a bum!" and skips off into the sunset on her own. The kids enjoy it, but moms have been applauding it even more, for 25 years. A classic.
Review by littlepiece
16/06/2015
Fabulous, fabulous, fabulous story of a resourceful princess who doesn't sit around waiting to be rescued, and instead sets off to do the rescuing. Munsch's familiar brand of humor will delight young readers, and the book's positive feminist message has delighted educators and parents around the globe. Plus Elizabeth tells off the lousy prince she was engaged to, a courageous move *many* of us could stand to emulate. Oh, yes.
Review by ezwicky
16/06/2015
The princess' happy life is destroyed by a fire-breathing dragon who abducts her fiance. She uses trickery and a good vocabulary to rescue him, defeating although not slaying the dragon, and he turns out to care more about her clothes, so she doesn't marry him. A princess book it is possible to love whole-heartedly. About the worst thing you can say about it is that it's ecologically unsound (she burns up 150 forests!)
Review by annereid
16/06/2015
Again, not much to look at but the story is a beautie.Every little girl who wants to be a princess should hear this tale. One for the feminists.Love it.
Review by faerielibrarian
16/06/2015
I am famous for my storytime version of this book! This is a must for every little girl. Call me, I'll come over and read it.