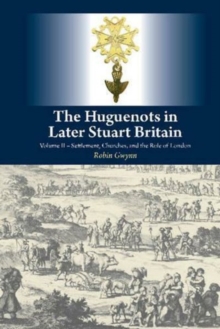 The Huguenots in Later Stuart Britain : Volume II Settlement, Churches, and the Role of London
Hardback
Description
The Huguenots in Later Stuart Britain is planned as one work to be published in three interlinking volumes (titles/publication dates detailed below).
It examines the history of the French communities in Britain from the Civil War, which plunged them into turmoil, to the Treaty of Utrecht in 1713, after which there was no realistic possibility that the Huguenots would be readmitted to France.
There is a particular focus on the decades of the 1680s and 1690s, at once the most complex, the most crucial, and the most challenging alike for the refugees themselves and for subsequent historians.
This volume explains when refugees fled France, and what drove them to settle in some regions of Britain but not others.
Recent scholarship has lowered former estimates of refugee numbers across Europe, but careful analysis of the available evidence suggests that for Britain, previous estimates have been low and need upward revision.
European historians have accepted Pierre Bayles assertion that the Netherlands were the great ark of the refugees too uncritically.
While Bayles remark was true enough when the Edict of Nantes was revoked in 1685, by 1700 England had emerged as the most significant refugee centre.
In particular, London came to house by far the largest Huguenot community in exile, and the reasons for the capitals huge appeal are examined. Historians have debated the reception that awaited the Huguenots in Britain.
Were they warmly welcomed, sullenly accepted, or consciously opposed?
The answer varied over time and place, but this book argues that overall they met an exceptionally sympathetic welcome.
Part of the evidence lies in the extraordinary efforts made to give them economic support, involving the creation of a special administrative bureaucracy with a high-powered French Committee to administer relief funds under the supervision of an even higher-powered English Committee which audited its work.
A chapter is devoted to the relief process. Appendices list all known lay officers of the French congregations and reproduce some little-known key documents.
Volume I: Crisis, Renewal, and the Ministers Dilemma 978-1-84519-618-9 (2015); Volume III: The Huguenots and the Defeat of Louis XIVs France 978-1-84519-620-2 (2020).
Information
Format: Hardback
Pages: 320 pages, illus
Publisher: Sussex Academic Press
Publication Date: 20/12/2017
Category: British & Irish history
ISBN: 9781845196196
Other Formats
Paperback / softback from £37.95
Free Home Delivery
on all orders
Pick up orders
from local bookshops