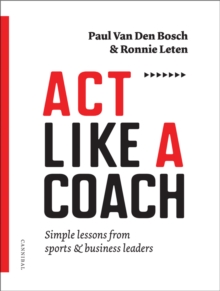 Act Like a Coach
Paperback / softback
Description
Often, managing and coaching employees is made out to be much more complex than it actually is.
You don't need difficult words, whether in sport or in business, to motivate people to do better and to enjoy what they do.
Just apply a few simple principles from daily life and you'll find that you can accomplish wonders. The authors have compiled a key selection of coaching principles in this book, sharing their own perspectives and experience.
Former CEO of Atlas Copco Ronnie Leten, and sports coach Paul Van Den Bosch understand that there is a huge similarity between coaching skills in sport and in business.
This isn't strange - pressures in the business world and in our society in general are continually increasing.
More than ever, we are expected to be flexible, to demonstrate resilience and to stay focused, even when confronted with problems and stress. Talent must have the chance to shine; we must build more trust; we must communicate more and communicate better.
An experienced sports coach and a manager each have these key skills, and between them they cover all bases.
Information
Format:Paperback / softback
Pages:160 pages
Publisher:Cannibal/Hannibal Publishers
Publication Date:28/06/2017
Category:
ISBN:9789492677044