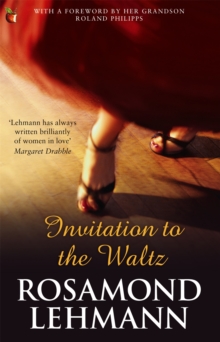 Invitation to the Waltz
Paperback
Description
A diary for her innermost thoughts, a china ornament, a ten-shilling note, and a roll of flame-coloured silk for her first evening dress: these are the gifts Olivia Curtis receives for her seventeenth birthday.
She anticipates her first dance, the greatest yet most terrifying event of her restricted social life, with tremulous uncertainty and excitement.
For her pretty, charming elder sister Kate, the dance is certain to be a triumph, but what will it be for shy, awkward Olivia?Exploring the daydreams and miseries attendant upon even the most innocent of social events, Rosamond Lehmann perfectly captures the emotions of a girl standing poised on the threshold of womanhood.
Information
Format: Paperback
Pages: 256 pages
Publisher: Little, Brown Book Group
Publication Date: 02/03/2006
ISBN: 9781844083053
Other Formats
Hardback from £10.65
EPUB from £6.99
Free Home Delivery
on all orders
Pick up orders
from local bookshops
Reviews
Showing 1 - 4 of 4 reviews.
Review by scohva
16/06/2015
The story of Olivia Curtis, who has just turned seventeen, as she experiences her birthday, the preparation for her first dance, and the dance itself. Written in 1932, but taking place somewhat earlier I think (references to the war with fairly young people having suffered injuries), it depicts rural English middle class society and how Olivia as a young girl reacts to the people around her. Once the evening of the dance arrives, she is exposed to a greater variety of people than she had ever encountered previously, and the novel ends with her ready to go out and embrace life. Lehmann wrote a sequel which takes place 10 years later, The Weather in the Streets which I would like to find. Very good.
Review by Luli81
16/06/2015
The introduction of a young lady in the London Society.And the ending of her innocence and happiness.
Review by SandDune
16/06/2015
Published in 1932, but set in 1920 just after the First World War, Invitation to the Waltz follows Olivia Curtis, a naïve and inexperienced middle class girl living in a small English village, from her seventeenth birthday to attending her first ever grown-up dance with her sister a week or so later. Part one follows Olivia on her birthday to a visit to the dressmaker; part two chronicles the arrival of the somewhat disappointing partner acquired by Mrs Curtis to accompany her daughters; and part three describes the dance itself. Nothing much happens. But what the author does beautifully is show Olivia's navigation through the minefield of class consciousness and manners that rules her small world. The agony of not knowing what to do in a social situation (especially when you'd been brought up to be polite at all costs), of not fitting in, of knowing that your clothes aren't right, is vividly brought home. The world in which Olivia lived has completely vanished but that feeling of awkwardness (albeit in different circumstances) could apply equally today. Olivia's village is not one of the comfortable, reassuring one often found in novels of this period – people are trapped within their circumstances and there's a real sense of claustrophobia. Miss Robinson, the rather incompetent dressmaker who Olivia feels obliged to patronise for fear of giving offence, has missed her chance of going to London to earn a living as she had wanted to, and trapped by the needs of her family has developed ill health as a way of relieving the boredom of her life. Olivia's father, who likes music and travel and reading books in French and German, has spent his life as owner and manager of a paper mill. It's clear that Olivia too, isn't really suited to the world in which she finds herself – only her sister Kate seems to truly fit.The class structure of the time is also vividly portrayed. Olivia and Kate are daughters of a local businessman, but it's clear that the family is not as prosperous as it had been. While they are friends with Marigold, in whose honour the dance is being held, Olivia and her sister are very conscious that once she has left school behind Marigold is going to be moving in a wealthier world which they can't aspire to. Miss Robinson too has her already limited social world limited by considerations of class: she can talk to one neighbour who was the wife of a market gardener but not to the other who was the wife of a bricklayer.
Review by Bagpuss
02/03/2016
Invitation to the Waltz is a gentle coming-of-age novel, set in the 1920s, about a young girl called Olivia who has been invited to her first ball just after her seventeenth birthday. Neither she nor her sister, Kate, is worldly-wise and both worry that they will be wallflowers – left standing at the side of the room, hoping that at least some of the slots on their invitation cards might be filled in. They had invited their mother's Godson so that they would have someone to dance with but he doesn't turn out to be the godsend they'd hoped for. As the evening wears on, Kate finds her dance card full and so Olivia is left somewhat to her own devices and, as the evening wears on, she dances with all kinds of different people and tries her best to enjoy her first proper evening out.<br/><br/>I enjoy social commentary books – most of those I've read have been about people from the lower end of the social scale from Olivia and Kate – people whose lives are lived in abject poverty. Olivia's life is different. Although the family aren't as well-off since their father returned from the First World War, their slightly reduced circumstances simply mean that Kate has had to give up horse riding lessons! Despite the very different social scale I did enjoy the class aspect of this book. It's difficult to imagine today going to a dance and having to have an invitation card with you and to wait for someone to fill in a vacant slot!<br/><br/>I'm not sure who I'd recommend this book to – it's a very gentle story and I enjoyed the characterisation but some might feel the story unsatisfactory but I enjoyed it despite the slow pace – I think Lehmann's characters are all believable and enjoyable and Rosamond Lehmann is an author whom I will definitely try again and I will definitely be reading the sequel. The Weather in the Streets.
Also in the VMC Designer Collection series | View all