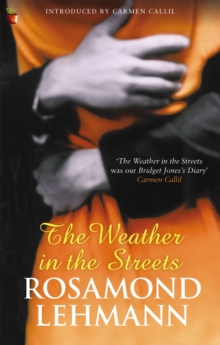 The Weather in the Streets
Paperback
Description
Taking up where AN INVITATION TO THE WALTZ left off, THE WEATHER IN THE STREETS shows us Olivia Curtis ten years older, a failed marriage behind her, thinner, sadder, and apprently not much wiser. A chance encounter on a train with a man who enchanted her as a teenager leads to a forbidden love affair and a new world of secret meetings, brief phone calls and snatched liaisons in anonymous hotel rooms.Years ahead of its time when first published, this subtle and powerful novel shocked even the most stalwart Lehmann fans with its searing honesty and passionate portrayal of clandestine love.
Information
Format: Paperback
Pages: 384 pages
Publisher: Little, Brown Book Group
Publication Date: 02/03/2006
ISBN: 9781844083060
Free Home Delivery
on all orders
Pick up orders
from local bookshops
Reviews
Showing 1 - 2 of 2 reviews.
Review by Kasthu
16/06/2015
The Weather in the Streets is the sequel to Invitation to the Waltz, set ten years afterwards. When her father becomes ill, Olivia Curtis returns home, having just been through a disastrous marriage. On the train ride, he runs into an old acquaintance: Rollo Spencer, a married man with whom she has an affair.I wanted to like this book; I really did. I think the major problem I had with this novel was that I felt so detached from the story and characters. Olivia is a passive observer in the novel, not an active participant, so it was hard for me to really get involved in her story. The thing that threw me off the most was the shift from third person to first person; it's used intermittently for the first hundred pages or so and in earnest as soon as Olivia's affair starts. Therefore, I saw the story from the outside rather than from Olivia's point of view. Rosamond Lehmann is good at constructing the details of the story, but I really found myself disliking Olivia as a person. Again, I wish I'd liked this book much more than I did!
Review by Luli81
16/06/2015
This is the sequel to "Invitation to the waltz", previous novel by Lehmann.There is little to be found of that excitable creature, Olivia Curtis, who attended her first ball ten years ago and captured most of the readers' hearts in this new novel. After a disastrous marriage, Olivia is returning home to visit his ill father, bumping into Rollo Spencer, her first love and seemingly twin soul, on the train. Rollo is the same confident, attractive man, now married to Nicola, whereas Olivia is an "independent" woman interested in the new cultural movement of the big city: poets, painters and photographers are her acquaintances; she lives by the day without planning her future in the typical bohemian style. Despite her apparently new appealing, Olivia is still the insecure and fearful creature who seeks approval and reassurance and, seeing Rollo after so many years arouse forgotten feelings in her, making her blunt and blind to the consequences of starting an affair with him.What I most enjoyed about this novel is the way it's written because it gives you a real glimpse of how an affair might start and what it would actually be like. The book is no illusion, no sugary romance, no big drama, just life unfolded and steps taken and consequences to be dealt with. There's no judgement, only facts and again, the exposure of our weak and capricious souls, two adults playing a game we all know the result of.Devastatingly cruel and sweet altogether, as life itself.
Also in the Virago Modern Classics series | View all