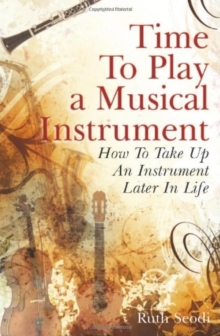 Time to Play a Musical Instrument : How to Take Up an Instrument Later in Life
Paperback
Description
If you've never played an instrument before, or feel rusty from your childhood music lessons, you will find this book the perfect guide into the world of music.
This book gives you a step-by-step approach to choosing your instrument, finding the right teacher, and getting you started with lessons.
With it you will: Discover the pros, cons and costs of different instruments, and where to buy them; Achieve a clear understanding of the elements of music theory and practice; Discover how to get the most out of your practice and speed up your learning process; Gain a sound knowledge of how to read music; Expand your social life with new friends, holidays, courses, music societies and concerts.Contents: I: FINDING WHAT YOU NEED TO GET STARTED; 1.
What do you want to play?; 2. Buying your instrument and accessories; 3. Renting an instrument; 4. How to find a good teacher; 5. How long will it take before I'm any good?; II: MAKING SENSE OF NOTES AND RHYTHM; 6.
Getting started; 7. What's that note?; 8. Up a bit...down a bit; 9. Time for an interval; 10. Express yourself; III: PRACICE TECHNIQUES; 11. How to get the best out of your practice; 12. Sight-reading - It's all an act!; 13. Music examinations; IV: A POSITIVE CHANGE IN LIFE; 14.
How music can improve your social life; 15. Know the lingo; 16. Putting it into practice!
Information
Format: Paperback
Pages: 160 pages, Illustrations
Publisher: Little, Brown Book Group
Publication Date: 23/06/2009
ISBN: 9781845283421
Free Home Delivery
on all orders
Pick up orders
from local bookshops