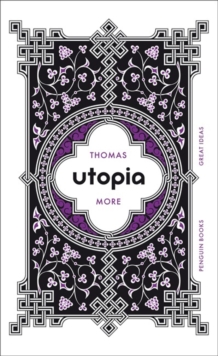 Description
In Utopia Thomas More painted a fantastical picture of a distant island where society is perfected and people live in harmony, yet its title means 'no place', and More's hugely influential work was ultimately an attack on his own corrupt, dangerous times, and on the failings of humanity.
Throughout history, some books have changed the world.
They have transformed the way we see ourselves - and each other.
They have inspired debate, dissent, war and revolution.
They have enlightened, outraged, provoked and comforted.
They have enriched lives - and destroyed them. Now Penguin brings you the works of the great thinkers, pioneers, radicals and visionaries whose ideas shook civilization and helped make us who we are.
Information
Format: Paperback
Pages: 160 pages
Publisher: Penguin Books Ltd
Publication Date: 27/08/2009
Category: Political science & theory
ISBN: 9780141043692
Other Formats
Paperback from £1.99
Hardback from £8.35
CD-Audio from £11.85
Paperback / softback from £15.85
Free Home Delivery
on all orders
Pick up orders
from local bookshops
Reviews
Showing 1 - 1 of 1 reviews.
Review by Carpe_Librum
16/06/2015
I have always wanted to read Thomas More's classic Utopia, and I'm pleased to finally have read it this year. Like most people, I knew Utopia to represent the ideal or perfect society but didn't know much more about the structure of Thomas More's classic.It's hard to believe Thomas More was born over 500 years before me, and yet his work has endured and is still relevant to us today. Published first in Latin in 1516, I was surprised to learn that Utopia wasn't published in English until 1551, which was sixteen years after Thomas More's unjust execution for treason.Utupia is a short novel, containing only 135 pages - and is broken down into two sections, Book One and Book Two.Book One commences with a letter from Thomas More to his friend Peter Gilles, explaining why it has taken so long to transcribe 'this little book about the Utopian Republic'. This letter is followed by another and then a discussion between Thomas More, Peter Gilles and a traveller by the name of Raphael Nonsenso. Raphael is discussing his time spent living in Utopia with Gilles and More engaging in the conversation. Book One ends with Thomas More asking for:"a detailed account of it from every point of view, geographical, sociological, political, legal - in fact, tell us everything you'd think we'd like to know, which means everything we don't know already."Book Two is the detailed account of Utopia, written by Thomas More from memory of Raphael's account.Fact or Fiction?The correspondence at the beginning of Utopia, certainly set a particular tone that what was to follow had an element of truth, or plausibility about it. This technique has been used countless times since, Bram Stoker's Dracula just one example. However, there were various clues early on that More's novel was instead a work of fiction. Raphael's surname of 'Nonsenso', was a clue, as was the curiosity surrounding the location of the island of Utopia, and the story that just as Raphael was discussing it's location a colleague coughed loudly, and More missed hearing the details.Thomas More used the fictional novel as a means to discuss controversial topics and ideas at the time, in particular in relation to nobility and the class system in England.I thoroughly enjoyed reading Utopia, and I believe it is an accessible classic for almost all readers. I think it is just as relevant and as important a piece of literature today as it was 500 years ago.
Also in the Penguin Great Ideas series | View all