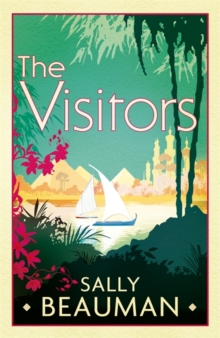 Description
Under the tablecloth, Frances's hand reached for mine and clasped it.
I knew what it meant, that clasp and the mischievous grateful glance that accompanied it: it meant I was thanked, that there were secrets here.
I could accept that. I too had secrets - who doesn't? Sent abroad to Egypt in 1922 to recover from the typhoid that killed her mother, eleven-year-old Lucy is caught up in the intrigue and excitement that surrounds the obsessive hunt for Tutankhamun's tomb.
As she struggles to comprehend an adult world in which those closest to her are often cold and unpredictable, Lucy longs for a friend she can love.
When she meets Frances, the daughter of an American archaeologist, her life is transformed.
As the two girls spy on the grown-ups and try to understand the truth behind their evasions, a lifelong bond is formed. Haunted by the ghosts of her past, the mistakes she made and the secrets she kept, Lucy disinters her past, trying to make sense of what happened all those years ago in Cairo and the Valley of the Kings. And for the first time in her life, she comes to terms with what happened after Egypt, when Frances needed Lucy most.
Information
Format: Hardback
Pages: 544 pages, Illustrated endpapers
Publisher: Little, Brown Book Group
Publication Date: 06/02/2014
Category: Historical fiction
ISBN: 9780751551679
Other Formats
Paperback from £7.25
CD-Audio from £23.09
EPUB from £4.99
Free Home Delivery
on all orders
Pick up orders
from local bookshops
Reviews
Showing 1 - 1 of 1 reviews.
Review by drmaf
16/06/2015
A lyrical, moving, beautifully handled story. Moving back and forth between Egypt in 1922 and England in the present, it is the story of Lucy, a young girl sent to the Nile Valley to recover from the typhoid that killed her mother. Under the supervision of a doting American minder, Lucy gets to move among the elite social set swirling around Howard Carter and his colleagues as they excavate the Valley of the Kings. She befriends the daughter of a American archaeologist, beginning a bond that will last a lifetime. In present-day England, Lucy, now a very old woman and the last surviving eyewitness to the discovery of the tomb of Tutankamun, is being pestered by a young TV producer to reveal what she saw and heard during those astounding days when the greatest archaeological discovery of the 20th century was being revealed to a wondering world. However, for Lucy remembering those days also brings many ghosts to the surface, from her time in Egypt and afterwards, the tragedies of her life. The story has a languid grace that needs to be experienced to fully appreciate its subtleties. Rather than grab you and drag you, it lays a gentle arm around your shoulders and leads you in the way it wants to go. I must admit, although I was initially drawn in by the Tutankamun angle of the story, it is Lucy's story that I found the most enthralling. Beauman evokes the setting of 1920's Egypt beautifully, you can almost see the dust and feel the hot wind. Dominating the landscape is the wonderfully-realized figure of Howard Carter, volcanic, moody, and cynical, totally oconsumed by a quest that seems more unlikely every day, to find an unrobbed tombed in a valley that has been picked over for centuries. You will love this book if, like me, you are an obsessive Egyptophile, but also if you just appreciate a good story well-told with strong and endearing characters. It's not quite in the same league as The Signature of All Things, which I read last year and have happily proclaimed as one of the 10 best novels I have ever read, but it is still an exceptional read. Perhaps its does tend to lose its way a bit after the tomb discovery, but that's a minor quibble, the beauty of the story more than compensates. I can only say, simply, it's lovely, just lovely.