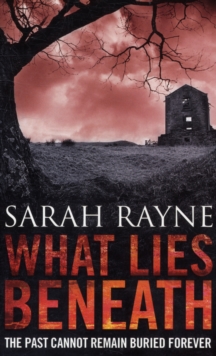 What Lies Beneath
Paperback
Description
When the village of Priors Bramley was closed off for chemical-weapons testing during the Cold War, a long history of dark secrets was also shut away.
Now, more than fifty years later, the ghost village has been declared safe again, but there are those living nearby who would much rather that the past remain buried.
Ella Haywood, who used to play in the village as a child, is haunted by the discovery of two bodies.
All those years ago, something happened in the village, something so terrible that and she and her two oldest friends have vowed to this day never to tell a soul.
But the past has a habit of forcing the truth to the surface.
With the identity of the bodies and the mystery surrounding the now derelict Cadence Manor drawing increasing local interest, Ella fears that she will have to resort to ever more drastic measures if she is to make sure that no onediscovers what really happened all those years ago.
Information
Format: Paperback
Pages: 576 pages
Publisher: Simon & Schuster Ltd
Publication Date: 04/08/2011
Category: Thriller / suspense
ISBN: 9781847393586
Free Home Delivery
on all orders
Pick up orders
from local bookshops
Reviews
Showing 1 - 1 of 1 reviews.
Review by Carpe_Librum
16/06/2015
I've been reading thriller novels from author Sarah Rayne for years now and really enjoy her writing style.I'm pleased to say that she's getting even better over time, and I thoroughly enjoyed What Lies Beneath, published in 2011.Essentially the novel is about a town which is going to be cleared to build a highway, but before it is, the government decides to use it for testing. Unfortunately the tests leave the area poisoned and it's locked up and out of bounds for decades.Characters in the past are linked to characters in the present and both have something to hide and something to discover.I especially enjoyed the section where one of the characters in the past was being treated for Syphilis using the methods and treatments available in 1912. I found it completely and utterly fascinating, as one of the treatments included an infusion box where the patient has their body seated and fully enclosed in a box with just their head exposed. A mercury solution is heated underneath the box which turns to vapour the patient inhales during the process which takes several hours.Apparently the treatment was incredibly painful and exhausting as the fumes were being absorbed into the skin as well as the lungs, and Rayne's description of the process had me gripping the book and shaking my head in disbelief that this was occurring a mere 100 years ago.I almost wanted to get up and go and research this illness, era and treatments and find out more. It just seemed so surreal; who would come up with such a therapy and how could they possibly believe it would work? I was thinking about it long finishing the book, and for this What Lies Beneath earns an additional star.