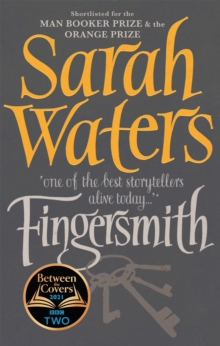 Description
The book that inspired Park Chan-wook's astonishing film The Handmaiden.Shortlisted for the Orange Prize and the Booker PrizeLondon 1862.
Sue Trinder, orphaned at birth, grows up among petty thieves - fingersmiths - under the rough but loving care of Mrs Sucksby and her 'family'.
But from the moment she draws breath, Sue's fate is linked to that of another orphan growing up in a gloomy mansion not too many miles away.
Information
Format: Paperback
Pages: 560 pages
Publisher: Little, Brown Book Group
Publication Date: 03/02/2003
ISBN: 9781860498831
Free Home Delivery
on all orders
Pick up orders
from local bookshops
Reviews
Showing 1 - 5 of 23 reviews.
Previous | Next
Review by im-imagined
16/06/2015
Absolutely amazing. Her best work yet - absolute page-turner, characters are so deep and complex, love scenes descriptive yet sensual...And a cracking great read besides.
Waters' most excellent Dickensian novel...a twist that will cause you to wear your head backwards for a few days.
Review by miketroll
16/06/2015
A well-crafted ripping yarn of Victorian London - grim, Gothic, levering the dark side of Dickens. Don't expect any comic relief!
Review by xicanti
16/06/2015
A young female thief helps a con man swindle a naive rich girl out of her fortune.While I was in the middle of this book, I tried to describe it to someone else. We both laughed and laughed, because it sounded so absurd. And, when you break it down into its component parts, this <i>is</i> the sort of book that could easily have been over the top and absurd. It's a testament to Sarah Waters's skills that the overall product is anything but. This is a tight, suspenseful, extremely readable con job tale that draws the reader in and holds her tight. I wasn't too sure about it at first, but after the big twist at the end of Part I was completely hooked. I was soon reading at breakneck speed, desperate to see how it would all turn out.
Review by littlebookworm
16/06/2015
The atmosphere was definitely the best part of this book; you can <i>feel</i> Victorian London seething about the characters amazingly well. The plot is tight and keeps you guessing. I too was shocked in parts, though I'll agree that part two got tedious as the same events were rehashed. I don't think so much detail was necessary, though it was interesting to see Sue from Maud's point of view. I raced through the book just to see what happened, and I wasn't disappointed by the ending. Definitely a good read.