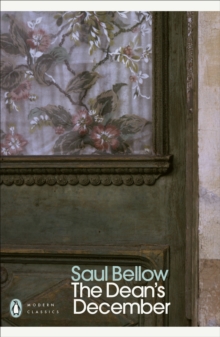 The Dean's December
Paperback
Description
Dean Corde is a man of position and authority at a Chicago university. He accompanies his wife to Bucharest where her mother, a celebrated figure, lies dying in a state hospital. As he tries to help her grapple with an unfeeling bureaucracy, news filters through to him of problems left behind in Chicago. A student had been been murdered and Corde had directed that charges be pressed against two black youths, but controversy and pressure are mounting against the university administration. Further, a series of articles written by Corde has offended influential Chicagoans whom he had counted as friends. Corde is troubled: at home the centre is not holding firm, in Eastern Europe authority is cruel and dehumanising.
Information
Format: Paperback
Pages: 320 pages
Publisher: Penguin Books Ltd
Publication Date: 31/01/2008
ISBN: 9780141188867
Other Formats
EPUB from £6.99
Hardback from £9.09
Free Home Delivery
on all orders
Pick up orders
from local bookshops
Reviews
Showing 1 - 1 of 1 reviews.
Review by edwinbcn
16/06/2015
It was in the early 1980s that left-wing optimism made place for no-nonsense neo-liberalism. Sympathy for a Marxist ideology and humanist view of society, fostered for about a decade since the late 1960s, disappeared without trace, and sympathizers went into hiding or transformed. The Dean's December by Saul Bellow traces that transformation.The Dean's December tells the story of Albert Corde, a former journalist, now Dean at a University in Chicago, who travels with his wife to Bucharest to attend to his dying mother in law. The reality of life in Bucharest is not utopian. It is hard for Corde to come to terms with the fact that one man, the Colonel, can decide about simple matters, such as whether or not to obtain permission to visit the dying mother-in-law in hospital. The reality of Bucharest is inhumane and harsh. Corde concludes that this is a lesson he is taught, a lesson about the human condition. In Communist countries, it is the government that sets the pain level for you. In the United States, it is very different, muses Corde, because it is a pleasure society which likes to think of itself as a tenderness society. In conservative capitalism this harshness is smoothed over by explanations that whoever should die are those who are disadvantaged, (…) or come from a backward section of the country. (p. 275).During his career as a journalist, Corde passionately wrote about the social injustice he observed in his hometown Chicago. His sympathy is particularly with that black underclass, (…) which is economically redundant (…) falling farther and farther behind the rest of society, locked into a culture of despair and crime.(p.206) They are a part of society that has been written off.Corde's message does not earn him any honours. Rather, his analytical powers are derided and he is slandered for a traitor, writing about such problems in his city.Much of the philosophical theme of the book doesn't emerge until the last quarter of the book, although the first part of the novel plays an important role to build up to that. What is most on Corde's mind at the beginning of the novel is a court case about a murder trial involving two black students at his own university. Corde is convinced that the case is misrepresented, and that the black students do not get a fair trial. There is no room for the "reality" of the case. The idea that the death of the white student was not premeditated but the result of an unfortunate accident does not fit the view of the case, or, as Corde observes with ordinary consciousness you can't even begin to know what's happening". (p. 266)With nothing at hand, and meeting an old school friend in Bucharest, Corde has not much other to do than to contemplate this case, and his career as a journalist and academic, barely realizing and "incapable of grasping the full implications of world transformation". Reality didn't exist "out there". It began to be real only when the soul found its underlying truth. In generalities, there was no coherence—none. The generality mind, the habit of mind that governed the world, had no force of coherence, it was dissociative. It divided because it was, itself, divided. Hence the schizophrenia, which was moral and aesthetic as well as analytical. (p. 266)The Dean's December is a novel with an uneasy message. It describes a situation in American society, which remains unresolved, and which, in the waning of the hegemony of the United States will present itself more on the foreground, as the American Dream makes way for the American condition. The Americans haven't seen any real pain yet. The American character doesn't even exist yet. It's still kicking in the womb.The Dean's December seems to have a limited readership. It was published at the time of the ascent of neo-liberalism, and perhaps therefore ignored. However, the tremendous scope of the novel, and the prediction contained in it, about the formation of the American character and the undecided outcome of the American condition, a novel written by a Nobel Prize winner, must mean that there will be a future re-assessment of its value, at a time when Americans have to come to terms with every man's inner inner city. (p. 207).
Also in the Penguin Modern Classics series | View all