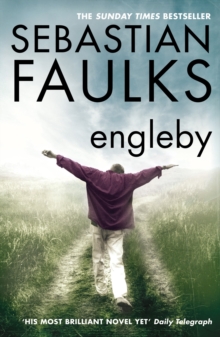 Description
Mike Engleby has a secret... This is the story of Mike Engleby, a working-class boy who wins a place at an esteemed English university.
But with the disappearance of Jennifer, the undergraduate Engleby admires from afar, the story turns into a mystery of gripping power.
Sebastian Faulks's new novel is a bolt from the blue, unlike anything he has ever written before: contemporary, demotic, heart-wrenching - and funny, in the deepest shade of black.
Information
Format: Paperback
Pages: 352 pages
Publisher: Vintage Publishing
Publication Date: 27/03/2008
Category: Crime & mystery
ISBN: 9780099458272
Other Formats
CD-Audio from £17.95
EPUB from £4.99
Free Home Delivery
on all orders
Pick up orders
from local bookshops
Reviews
Showing 1 - 5 of 12 reviews.
Previous | Next
Review by wendyrey
16/06/2015
One of the best ' get into the head of a madman/disturbed person/ eccentric' books I have ever read, maybe because some (I said some!) of his eccentricities are parallel to mine ( on a scale of one to ten mine are 5's his are 10's). A darkly funny, engaging book about an extreme social isolate , who finds understanding other people a challenge (sometimes I'm not even sure other people are real) whose obsessions end in tragedy and who also manages to hide the tragedy from everyone including himself.Excellent book.
Review by PaolaF
16/06/2015
Dark, disturbing and compelling.
Review by Fluffyblue
16/06/2015
I was a little sceptical about reading this as there have been many mixed reviews. The book started well and drew me in quite easily. I enjoyed learning about Engleby's life in Cambridge, and his early life at public school. When he moved to London, I found myself losing interest, and at one point wondering whether to carry on. I'm so glad I did because the last third of the book was brilliant. I felt swept along by the story, and the character of Engleby. I found him to be quite believable. I'm not sure how I felt about him though - I think I liked him, but you never actually felt that you got to know him. I think that was part of his character.The book was well written - having never read a Faulks before I wasn't sure what to expect. I found it quite easy to take in and well set out. I will certainly be reading more of his work - although I'm led to believe that this particular book is quite different from some of his other books.
Review by jintster
16/06/2015
My second Faulks and just as impressive (in a different way) to Birdsong. Engleby is a near genius loner bordering on the sociopathic. His story is told in the first person allowing Faulks to use one of my favourite narrative techniques, the unreliable narrator. When done well, this way of telling a story demands an element of interaction from the reader, who is obliged to work out the true story behind the one he is being told rather than absorb it passively. The book is split into three phases. Engleby has a miserable time at boarding school, where he is relentlessly bullied due to his impoverished background. At Cambridge, Jenny, the girl he falls in (unrequited) love with disappears and is assumed dead. Finally, he becomes a decent journalist. The disappearance of Jenny is the book's centrepiece but its really not enough to sustain a plot in which not an awful lot happens. Nevertheless the quality of Faulks' prose shines through and we get what seems to be a realistic insight into the mind of a distinctly odd person.The school part of the novel is expertly done, although it must be said that public scholl bullying is a bit of a literary cliche. The time in Cambridge is brilliantly evocative of the 1970s. Faulks loses his way a bit in the final phase, using Engleby as a mouthpiece to snap at the bits of modern Britain he doesn't like, especially education. Overall, a very good novel.
Review by jwhenderson
16/06/2015
I read Sebastian Faulk's novel Charlotte Gray almost a decade ago. It is an historical novel of the best kind both for its historical accuracy and its dramatic characterization.In reading Engleby I found a psychological novel where characterization is brought to the fore with the presentation in the first person. That person, Mike Engleby, gradually becomes several characters as the novel progresses. Much like Dickens, notably in David Copperfield and Great Expectations, Sebastian Faulks's protagonist adopts different names for his persona over the course of the novel. The reader gradually begins to doubt the reliability of Engleby as narrator of his life story and with good cause, as he develops psychological characteristics that one may only categorize as pathological. Where these lead him I will leave to those readers interested in finding our for themselves. I found his story suspenseful, even as it began to repulse me. My interest was also piqued by his recurrent meditations like this one on time:"What is this present then? It's an illusion; it's not reality if it can't be held. What therefore is there to fear in it?"(p. 65)This is early in the novel, he has later meditations on the nature of thinking itself, and you gradually wonder if these are not symptoms of his gradual loss of the ability to distinguish reality from imagination. His pathology includes a variant of voyeurism that allow the author to incorporate diaries and other documents into the narrative - perhaps to confirm Engleby's own views. The combinatorial effect of the narrative techniques made this an intriguing psychological novel and raised the author in my estimation. I look forward to reading more of his novels.