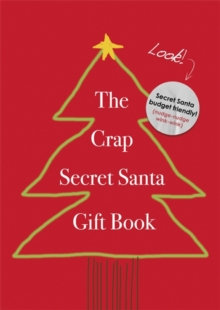 The Crap Secret Santa Gift Book
Hardback
Description
A budget-friendly Secret Santa present for fans of How to Poo at Work and Very British Problems featuring advice on how to survive the office christmas party, silly games to play in meetings and, on one page, a picture of a really evil swan.
Perfect for that bloke in marketing whose name you've forgotten.
Dear _____,Look, I never signed up to this 'Secret Santa' crap.
If I had it my way we'd spend the money on a paddling pool and fill it with gin, or a pool table or something. And I'm sure you're great, but in all honesty I'm not really sure who you are.
That's why I pretended to be on my phone in the lift the other day.Anyway, seeing as it's compulsory, I decided to get you this very expensive and interesting book, featuring such things as: Tips on how to survive the office partyStupid games to play in meetingsExamples of things I could have got you instead of this bookA picture of a swanLet's face it, you're only going to leave this behind in the pub or give it to your weird nephew you're secretly terrified of, so stop complaining.Oh, and Merry Christmas.Yours,'Secret Santa'
Information
Format: Hardback
Pages: 64 pages
Publisher: Headline Publishing Group
Publication Date: 03/11/2016
Category: Society & culture: general
ISBN: 9781472243942
Free Home Delivery
on all orders
Pick up orders
from local bookshops