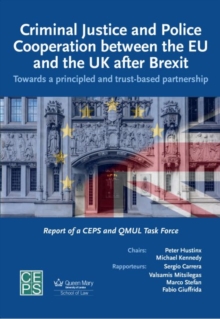 Criminal Justice and Police Cooperation between the EU and the UK after Brexit : Towards a Principled and Trust-Based Partnership
Paperback / softback
Description
Brexit poses major challenges for future interaction between the EU and the UK in the areas of criminal justice and police cooperation.
A new legal framework will be required to sustain the EU's relations with the UK an active participant in numerous EU criminal justice and police cooperation instruments - once it leaves the Union.
The negotiations on the exit of the UK from the EU must grapple with the crucial question of how and to what extent can the two parties continue to maintain effective arrangements for fighting cross-border crime, while at the same time guaranteeing compliance with the rule of law and fundamental rights. This report is the result of intensive deliberations among members of a Task Force set up jointly by CEPS and the School of Law at Queen Mary University of London, who met regularly throughout the first half of 2018.
It examines the feasibility of retaining the current EU-UK framework for cooperation in these critical fields and explores possible alternatives to the status quo.
It also delves into the conditions under which the UK could continue to participate in EU instruments and relevant EU agencies engaged in cooperation in criminal matters and to have access to justice and home affairs databases and other information-sharing tools.
In their conclusions, the members offer a set of specific policy options for the EU and the UK to consider after Brexit with a view to developing an effective partnership in the areas of criminal justice and security based on trust and shared values.
Information
Format: Paperback / softback
Pages: 192 pages
Publisher: Centre for European Policy Studies
Publication Date: 30/10/2018
Category: International relations
ISBN: 9789461386953