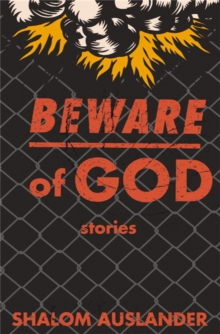 Description
Shalom Auslander's stories have the mysterious punch of a dream: a pious man having a near-death experience discovers that God is actually a chicken, and is forced to reconsider his life - and his diet.
Leo Schwartzman searches Home Depot for supplies for an ark. And a young boy mistakes Holocaust Remembrance Day as emergency-preparedness training for the future.
Auslander draws upon his Orthodox Jewish upbringing to craft stories that are filled with shame, sex, God and death.
Information
Format: Paperback
Pages: 208 pages
Publisher: Pan Macmillan
Publication Date: 05/01/2007
Category: Short stories
ISBN: 9780330442046
Free Home Delivery
on all orders
Pick up orders
from local bookshops
Reviews
Showing 1 - 2 of 2 reviews.
Review by wandering_star
16/06/2015
A collection of calculatedly outrageous short stories. Almost all of them target religion - often by satirising organised religion, personal faith (characters praying to something which is clearly not a god) or Talmudic debate (about issues which are clearly not religious or Biblical). Others imagine what would happen if the God of the Old Testament was literal truth in the twenty-first century ("The angels stood quietly at the back of His office, their eyes locked nervously on the place where their feet would have been" - from possibly the best one of the stories, "Somebody Up There Likes You"). They are pretty deadpan, and I read the first few stories shaking with laughter. But I would recommend against reading the whole book in one go, as I did - there were definitely diminishing returns, not only because of the similarities of style and subject matter, but because as you read on, the book felt increasingly angry and less and less funny.
Review by CliffBurns
16/06/2015
Very, very funny book but not for fundamentalist types of any persuasion. Auslander knows exactly where to stick the knife in...and twist.