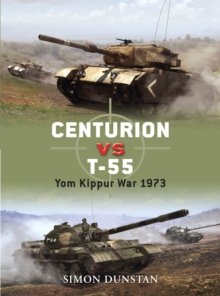 Centurion VS T-55 : Cold War Combatants 1967-87
Paperback / softback
Part of the Duel series
Description
Conceived at the height of World War II, the British Centurion and the Soviet T-55 were initially expected to counter the formidable Panther and Tiger tanks of Germany.
But as the Cold War unfolded, these machines prepared instead for the coming struggle between NATO and the Warsaw Pact.
Though they never fought in Europe, these two tanks became the mainstay of the Cold War's proxy forces around the world.
From Korea to the Middle East and on to Angola, these two armored combatants clashed repeatedly, reaching their crescendo on the Golan Heights during the Yom Kippur War where 177 Centurions of the IDF took on a vastly superior Arab force.
This book compares the design, development and deployment of these classic tanks, and analyses their battlefield performance.
Presented with highly detailed digital artwork, this is a tightly focused study of two of the Cold War's first main battle tanks.
Information
Format: Paperback / softback
Pages: 80 pages, Illustrations
Publisher: Bloomsbury Publishing PLC
Publication Date: 10/11/2009
Category: Tanks & military land vehicles
ISBN: 9781846033698