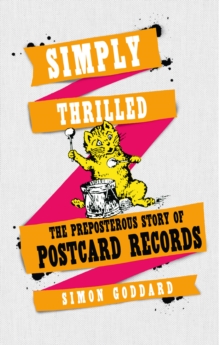 Simply Thrilled : The Preposterous Story of Postcard Records
Hardback
Description
They had just a few hundred pounds, one band missing a drummer, a sock drawer for an office, more dreams than sense and not a clue between them how to run a record company.
But when Alan Horne and Edwyn Collins decided to start their own label from a shabby Glasgow flat in 1979, nobody was going to stand in their way.
Postcard Records was the mad, makeshift and quite preposterous result.
Launching the careers of Orange Juice, Aztec Camera and cult heroes Josef K, the self-styled 'Sound of Young Scotland' stuck it to the London music biz and, quite by accident, kickstarted the 1980s indie music revolution.
Simon Goddard has interviewed everyone involved in the making of the Postcard legend to tell this thrilling rock'n'roll story of punk audacity, knickerbocker glories, broken windscreens, raccoon-fur hats, comedy, violence and creating something beautiful from nothing, against all the odds.
Information
Format: Hardback
Pages: 256 pages
Publisher: Ebury Publishing
Publication Date: 17/04/2014
Category: Punk, New Wave & Indie
ISBN: 9780091958244
Free Home Delivery
on all orders
Pick up orders
from local bookshops
Reviews
Showing 1 - 1 of 1 reviews.
Review by JonArnold
16/06/2015
Goddard's account of Postcard's brief but gloriously insane existence is suitably fast moving and enveloped in prose that isn't just purple but strives to invent an entirely new, ultimate shade of that colour. It's the story of how Alan Horne gloriously crashed his Motown fuelled fantasies with the ebullient assistance of the inimitable Edwyn Collins. It's almost the textbook lesson in how not to run your own label, communication, organisation and finances rarely rising to the level of shambolic. But then, when the music they release is of the calibre of Josef K, Orange Juice, The Go-Betweens and Aztec Camera, perhaps it's all worth it.Goddard's work seems based on first-hand accounts from all the major players, and as such makes gleeful play that there may be issues with strict accuracy. He even takes the famous line from The Man Who Shot Liberty Valance of 'when the legend becomes fact, print the legend' as inspiration. Which, in true Postcard style, makes for better entertainment. What it means is that it captures how Horne's madness takes him to the brink of success, though it's not so good on internal motivations past his initial reasons for forming the label. That means that this is something of a shallow portrait which rarely pauses for breath or analysis, though it's good on contrasting what made Postcard so different from the equally chaotic Factory Records.I'm not quite sure as to whether Goddard's prose is a stylistic decision or narrative stretching padding – his previous books have essentially been linked lists often typical of journalists looking to move into prose. Despite the relatively brief length of the book, it does become more and more wearing over the course of the book. Goddard does have a good grasp on his narrative though, centring it on Horne, finishing with Postcard's demise and only leaving the later chart success of Orange Juice and Aztec Camera as an epilogue.Not quite as glorious as the label's ambition and the songs that resulted, but a serviceable starting point as to one of the indie's finest examples of ambition exceeding reach. If you want the story in the true Postcard spirit, this is fine, but if you want the actual story head for Richard King's How Soon Is Now.