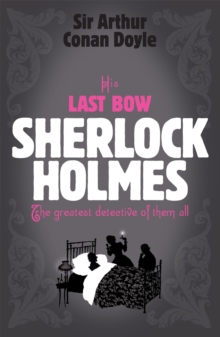 Sherlock Holmes: His Last Bow (Sherlock Complete Set 8)
Paperback
Description
About to spring out upon my appalled senses, lurked all that was vaguely horrible, all that was monstrous and inconceivably wicked in the universe'.
A dense yellow fog descends upon London. Tricksters, thieves and murderers stalk their prey undetected.
Lawlessness abounds but it is no match for the penetrating mind of Sherlock Holmes as he investigates the strangest of cases. A woman receives a gruesome package - two human ears in a box. A vital government secret is threatened with exposure. Miss Brenda Tregennis is found scared to death - could she really have died from fright alone? And when the stability of the country is threatend, Holmes' unrivalled talents are called upon once again ...
Information
Format: Paperback
Pages: 256 pages
Publisher: Headline Publishing Group
Publication Date: 18/12/2006
Category: Classic crime
ISBN: 9780755334438
Free Home Delivery
on all orders
Pick up orders
from local bookshops
Reviews
Showing 1 - 4 of 4 reviews.
Review by breakerfallen
16/06/2015
I prefer these longer stories over the earlier ones, but I like the character development in the earliest books the best. More Holmes and Watson is always a good thing.
Review by maureene87
16/06/2015
A collection of late Holmes stories. It was actually fairly weak, especially the last story. (Mystery? What mystery? It was all a bit of WWI patriotic fluff. Since when does Holmes care about current affairs?) [June 2010]
Review by ctpress
16/06/2015
"I followed you."(Holmes)"I saw no one."(Dr. Sterndale)"That is what you may expect to see when I follow you." (Holmes)This is the fourth out of the five short story collections with the famous detective from Baker Street. It contains eight stories - my favorites were "The Adventure of the Cardboard Box", "The Adventure of the Bruce-Partington Plans", and specially "The Adventure of the Devil's Foot" - Watson refers to it as the strangest case Holmes ever handled. A lot of vintage Holmes and Watson in this collection - two severed ears, stolen plans for a secret submarine, a vanished lady, madness and hallucinations, Holmes on his deathbed - or so it seems.The final story "His Last Bow" is not classic Holmes as it is a patriotic spy story written during WW1 - featuring Holmes as an under cover agent. Again Arthur Conan Doyle tries to say goodbye to the detective - the last page has yet another finality to it as Holmes and Watson are going to retire: Holmes to Watson: "Stand with me here upon the terrace, for it may be the last quiet talk that we shall ever have."Well, it didn't work - Doyle wrote yet another 12 stories that are in the final collection "The Casebook of Sherlock Holmes" - looking forward to that one.
Review by OscarWilde87
27/08/2015
To set what I will say below into perspective: I love Sherlock Holmes. So most likely my thoughts will not be shared by some of you. Yet, to everyone who is not sure whether to read stories about the famous detective, just try a few of the stories and see how you like them. While <i>His Last Bow</i> is not a good point to start when you want to start right at the beginning, it gives a good impression of what Holmes stories are all about. If you are already familiar with the adventures of Sherlock Holmes, this volume of stories is quite likely something you will enjoy.<i>His Last Bow</i> is another of many story colletions centered around detective Sherlock Holmes and his work. As it is a collection of stories I will refrain from going into detail for each one. While <i>His Last Bow</i> features many great stories, "The Dying Detective" is the one I liked best. On the outset, Watson is called to Holmes' rooms at 221b Baker Street and Sherlock Holmes apparently lies on his deathbed as the title of the story suggests. He seems to be terribly sick and is hardly able to speak. After refusing to be treated by Watson, he sends the latter to find Mr. Culverton Smith, who is not a doctor but very experienced with tropical diseases. As the narrative goes on and Smith arrives in Baker Street it slowly becomes clear that Holmes is actually perfectly healthy and that he just pretends to be deadly ill in order to get a confession out of Culverton Smith who murdered his own nephew.Even if it were just for the sake of "The Dying Detective", this volume is highly recommendable to readers of good detective fiction. It is on the whole a good collection of stories, each of its own worth reading. One might think to get bored by a volume of on the outside similar detective stories but this is actually not the case. The stories each have their own little twist that sets them apart from the rest. I think one of the strong points of this volume is that the stories are not overdone and, being rather short, very much to the point.On the whole, four stars.
Also by Sir Arthur Conan Doyle | View all
Also in the Sherlock Complete Set series | View all