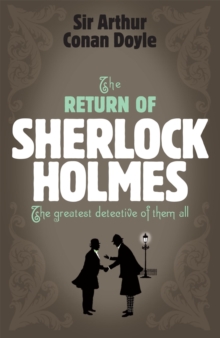 Sherlock Holmes: The Return of Sherlock Holmes (Sherlock Complete Set 6)
Paperback
Description
'"Holmes!" I cried. "Is it really you? Can it indeed be that you are alive? Is it possible that you succeeded in climbing out of that awful abyss?'.
The one and only Sherlock Holmes is sensationally back from the dead, and devoting his life once more to examining the criminal complexities of the capital. Cases of mysterious codes, persecuted millionaires, stalkers, abductions and a meeting with 'the worst man in London' are all attacked with renewed vigour. But Holmes' old enemies are watching his every move.
Watching, waiting, plotting...
Information
Format: Paperback
Pages: 384 pages
Publisher: Headline Publishing Group
Publication Date: 18/12/2006
Category: Classic crime
ISBN: 9780755334414
Free Home Delivery
on all orders
Pick up orders
from local bookshops
Reviews
Showing 1 - 2 of 2 reviews.
Review by bookworm12
16/06/2015
Three years after Sherlock's death at the hands of Moriarty, Dr. Watson is shocked to discover he's actually alive and well! He was so shocked in fact he faints for the first and only time in his life. The story that follows explains Sherlock's absence over the past couples years and his current predicament. Some of Moriarty's agents are trying to find and kill him and they'll stop at nothing to do so. The clever Holmes devises a plan to not only catch his enemies, but also to solve an open case for the police at the same time. **SPOILERS**Colonel Moran is Sherlock's pursuer in this novella. He is an admired military man with a reputation as an skilled hunter. Sherlock compares Colonel Moran (to his face) to the very tigers he hunted for so many years. It must have been salt in the wound to someone so proud of his ability to hunt. Holmes had no qualms about insulting him and making sure he understood that he was now the captured prey. Clearly the brilliant Sherlock has returned. **SPOILERS OVER**BOTTOM LINE: An excellent story and a must read for anyone who finishes The Final Problem.  
Review by ctpress
16/06/2015
This is the third short story collection, and it felt like the best so far - or maybe I'm just getting more and more into this crime universe. Holmes is returning after his presumed death in the fatal encounter with Moriarty at the Reichenbach Fall (recounted in the last story of "The Memoirs of Sherlock Holmes". The collection here is a feast of good stories, most of them shows Sherlock Holmes at the top of his game with his brilliant deductive powers. Oh, how Lestrade glows in the second story but guess who gets the last laughter. My favorites were "The Adventure of Charles Augustus Milverton" , "Abbey Grange", "The Second Stain", "Six Napoleons", "Priory School" and "The Norwood Builder".I like the variety - some scary, some intriguing, some comic - most of them just trademark Sherlock-spectacular. Again the Gothic setting of Victorian London is a sheer pleasure. Also there are trips to large estates outside London and a visit at a university. The perfect chemistry between Holmes and Watson are one of the reasons for the success of these stories. Holmes always five steps ahead of them all, Watson trying to catch up and being surprised all the time. Brilliant. In one of the stories Holmes gets engaged:"You would not call me a marrying man, Watson?""No, indeed!""You'll be interested to hear that I'm engaged.""My dear fellow! I congrat——""To Milverton's housemaid.""Good heavens, Holmes!""I wanted information, Watson.""Surely you have gone too far?""It was a most necessary step. I am a plumber with a rising business, Escott, by name."
Also by Sir Arthur Conan Doyle | View all
Also in the Sherlock Complete Set series | View all