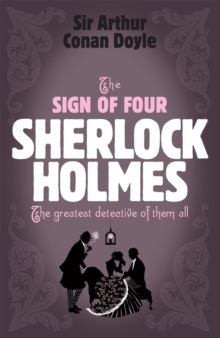 Sherlock Holmes: The Sign of Four (Sherlock Complete Set 2)
Paperback
Description
'Down the Strand the lamps were but misty splotches of diffused light which threw a feeble circular glimmer upon the slimy pavement'.
Whilst the seamy streets of London drown in a sea of smog, Sherlock Holmes sinks into a cocaine-induced melancholy, until Miss Mary Morstan presents him with a most intriguing case. A terrible death, an unknown benefactor, stolen treasure, and a secret pact between criminals stretching back to a mutiny-torn India, lead Holmes into an epic pursuit of the truth...
Information
Format: Paperback
Pages: 160 pages
Publisher: Headline Publishing Group
Publication Date: 18/12/2006
Category: Classic crime
ISBN: 9780755334490
Free Home Delivery
on all orders
Pick up orders
from local bookshops
Reviews
Showing 1 - 2 of 2 reviews.
Review by Carpe_Librum
16/06/2015
I don't know why, but up until now, I've never read any of the books written by Sir Arthur Conan Doyle featuring the celebrated character Sherlock Holmes. When considering my reading goals for 2010, Sherlock Holmes didn't rate a mention and I guess it was only that someone else brought one into the house that I became interested at all.And so it was that I came to read 'The Sign of Four.' I warmed to Sherlock Holmes and Dr Watson much quicker than I ever thought possible. This is probably a result of my ignorance and assumptions I'd made over the years as to the dynamic between them and just what type of character Holmes was. I didn't find Dr Watson to be dumb or dopey in any way, although he is readily portrayed as such in many circles. I didn't realise that Holmes was such a genius when it came to observing the detail in a fashion that even Simon Baker's character from 'The Mentalist' tv show would be proud. Holmes was in no way stuffy or old-fashioned, and I was shocked to learn of this character's involvement with drugs that are now illegal.I did find the romance between Dr Watson and the leading female character to be totally unrealistic for the modern reader, but who knows, perhaps it was completely believable at the time of publication.I thoroughly enjoyed reading the explanations of logic Holmes provides Watson and the setting in London in the 1880s is immediately appealing. In fact, it's hard to believe the author was writing these mystery novels more than 130 years ago, and I can now understand how the Sherlock Holmes series of books can endure all this time, and why they're a treasured classic!If you haven't read any Sherlock Holmes, I encourage you to get onboard, I'm sure you'll be pleasantly surprised!
Review by ctpress
16/06/2015
Watson: I fear that it may be the last investigation in which I shall have the chance of studying your methods. Miss Morstan has done me the honor to accept me as a husband in prospective.Sherlock Holmes gave a most dismal groan. "I feared as much," said he. "I cannot really congratulate you."I was a little hurt. "Have you any reason to be dissatisfied with my choice?" I asked. "Not at all. I think she is one of the most charming young ladies I ever met….But love is an emotional thing and whatever is emotional is opposed to that true cold reason which I place above all things. I should never marry myself, lest I bias my judgment. "I trust," said I, laughing, "that my judgment may survive the ordeal."Sorry for a lengthy quote but I couldn't resist. I will remember this second novel in the Sherlock Holmes series for the blooming romance between our dear friend Dr. Watson and the woman in peril, Miss Mary Morstan. When you get romance in Sherlock Holmes you have to cherish it. And Holmes' cold reaction towards it. There's a guy who stays true to character. Of other novelties in the novel one can mention the opening scene where Holmes with much indifference is sniffing cocaine out of boredom. Watson is shocked and warns Holmes of his dangerous cocain habit. So we come to the mystery itself. Well, all I have to say: This is a short, fast-paced story that takes place all over London - about Miss Morstan and her missing father, a hidden treasure, treachery, murder and greed among the ingredients. Here's the books concluding remark: Watson to Holmes: You have done all the work in this business. I geet a wife out of it, Jones (the police investigator) gets the credit, pray what remains for you?"For me," said Sherlock Holmes, "there still remains the cocaine-bottle." And he stretched his long white hand up for it.
Also by Sir Arthur Conan Doyle | View all
Also in the Sherlock Complete Set series | View all