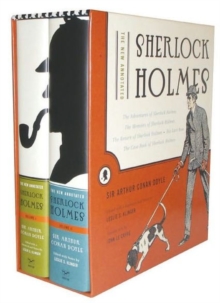 The New Annotated Sherlock Holmes : The Complete Short Stories
Hardback
Description
This monumental edition promises to be the most important new contribution to Sherlock Holmes literature since William Baring-Gould's 1967 classic work.
In this boxed set, Leslie Klinger, a leading world authority, reassembles Arthur Conan Doyle's 56 classic short stories in the order in which they appeared in late nineteenth- and early twentieth-century book editions.
Inside, readers will find a cornucopia of insights: beginners will benefit from Klinger's insightful biographies of Holmes, Watson, and Conan Doyle; history lovers will revel in the wealth of Victorian literary and cultural details; Sherlockian fanatics will puzzle over tantalizing new theories; art lovers will thrill to the 800-plus illustrations, which make this the most lavishly illustrated edition of the Holmes tales ever produced.
The New Annotated Sherlock Holmes illuminates the timeless genius of Arthur Conan Doyle for an entirely new generation of readers.
Information
Format: Hardback
Pages: 1700 pages, Two-color text throughout; 800+ illustrations
Publisher: WW Norton & Co
Publication Date: 08/11/2004
Category: Classic crime
ISBN: 9780393059168
Free Home Delivery
on all orders
Pick up orders
from local bookshops
Reviews
Showing 1 - 4 of 4 reviews.
Review by Crowyhead
16/06/2015
This is simply a must-have set for any fan of Sherlock Holmes! Not only are the volumes thoroughly annotated, they are also richly illustrated with Paget's famous illustrations, as well as those of other artists.
Review by shmjay
16/06/2015
If you have never read Sherlock Holmes, avoid this set as you would the plague. As the publisher was Norton, I expected something like Gardiner's <u>Annotated Alice</u> or Michael Patrick Hearn's annotations of <u>Huckleberry Finn</u> and <u>The Wizard of Oz</u>. Instead what I got was a bunch of trivial inanities which are the kind of thing that is vastly interesting to those who pretend (or even believe) Sherlock Holmes is a real person, but are useless to those who want to know about the Victorian context (cultural, historical, and literary). Example: "This pub [in some town] could be the one Sherlock Holmes visited in [one of the novels]."If this is typical of "Sherlockian scholarship", it has the same relation to real scholarship as Star Trek fans' Memory Alphadoes. At least the Star Trek people don't pretend what they are chronicling is real.I like Victorian literature, and so was interested in reading Conan Doyle, but the inane annotations spoiled all enjoyment of it. In the end, I just read the text of the stories and novels and ignored the annotations. I wish I had encountered "The Oxford Sherlock Holmes" first.
Review by uncultured
16/06/2015
This book is a wonderful introduction to Holmes, and, for one who has read all the stories, still manages to provide enough material (photos, drawings, articles) on the world inhabited by Holmes and Watson to make it a worthwhile purchase for any mystery lover. Really. Go ahead, toss it at anyone who loves mysteries. They'll start flipping the pages, glancing, glancing, then pause at a photo (perhaps the one of a 19th century submarine). Then of course, one must READ the footnote. And of course, one can't just leave the Bruce Partington Plans in the hands of a mysterious thief... Save up though, these Holmesian bookends are a bit pricey, and there's a third volume out there that features the novellas like The Hound of the Baskervilles.Awooooooooo...
Review by jeff.maynes
16/06/2015
The "New Annotated Sherlock Holmes" first volume contains all of the short stories originally published in "The Adventures of Sherlock Holmes" and "The Memoirs of Sherlock Holmes." These stories comprise the initial run of Holmes' tales, ending with the climactic "The Final Problem," in which Holmes confronts Professor Moriarty. Holmes' tales work best in short story format, and this collection is an absolute delight.I'm not a particular fan of detection fiction, nor of mystery novels. Reading these Holmes' stories illustrated to me why that is - Doyle sets the script for detective fiction which everyone else follows, but nobody has topped. It is similar, in some respects, to the influence of Tolkien on the fantasy genre. While Tolkien breathed commercial life into it, his influence was so great that it stifled the creativity of future fantasy authors. The same could be said of Doyle's Sherlock Holmes. The influence is very clearly seen on recent television. Modern mystery shows (ranging from the excellent to the abhorrent) like Psych, House, the Mentalist and CSI all draw on the Holmes' formula to varying degrees. This is all to say, that whether you have an interest in the genre before picking up this volume or not, I think there is a good chance you will be as enthralled as I was.Most of the stories follow a fairly standard formula. Holmes' partner and friend, Dr. Watson, recalls a case in which Holmes displayed his particular acuity at reasoning to solve some crime. A desperate and befuddled victim describe some bizarre scenario, and Watson and Holmes look into it. To everyone's astonishment, Holmes' solves the case, recounting in the end how he managed to pick up clues missed by his compatriots and reason to the actual events. There are deviations in many of the stories, but the general framework quickly becomes rather comfortable for the reader. Watson is an affable and enjoyable narrator. Holmes can be cold at times, and Watson's humor is a nice counterpoint. He's also an able contributor to the stories themselves, even if he is not quite up to Holmes' superhuman abilities. It's Holmes, rather obviously, who is the most interesting character. In some of the stories, he seems to act simply as a reasoning machine. When Watson finds him, he is hard at work on some scientific pursuit, and once the case is on, he relentlessly pursues it to its conclusion. Yet, many of the other stories show a more complicated and interesting character. While justice is on his mind, he also pursues these cases because he is so fundamentally bored. It's not simply boredom with the events of the day, but that he finds life itself a dreary chore when not intellectually stimulated. On one hand, this seems somewhat odd. It has always seemed to me that the deeper one's appreciation for the complexities of the world, the more fascinating (and less boring) the world becomes. Is it that Holmes' is simply not interested in scientific pursuits, or that he is so intelligent that he has passed even this point? I think not. The first is clearly false, given his interest in chemistry, and we are often introduced to the limits of Holmes' abilities. So what is the cause of Holmes' ennui? It hardly seems to be a crisis in faith, or an existential crisis about the absurdity of the world as it is. I rather enjoyed wrestling with this characteristic, particularly since it seems so foreign to Watson, the narrator. Watson is consistently impressed, engaged and interested in the events he reports upon. It makes him unable to really bring himself to bear on Holmes' own personality, which creates ample opportunities for the reader to dive in.As one would expect with any volume of short stories, the quality can be a bit uneven. Some of the stories are simply fantastic, particularly "The Red Headed League," "The Boscombe Valley Mystery," "The Copper Beeches," "The Naval Treaty" and "The Final Problem" while others don't quite come off. For example, "The Stock Broker's Clerk" is quite similar to another, earlier story, and the "Five Orange Pips" has a setup that does payoff in terms of details about the secret organization or a plausible explanation of their behavior. Also of interest is the rather progressive ending to "The Yellow Face," which deals with interracial marriage. Nevertheless, the level of quality is generally quite high across the entire volume. Doyle is an able stylist, the mysteries are generally interesting, and the tales are frequently exciting reads.This edition is also worth saying a few words about. It is designed for "Sherlockian" scholars. These fans of the novels operate under the fiction that the novels are literally true, and that Holmes was a real person whose exploits were recorded by the quite real Watson. The annotations in the volume are in this vein, and typically provide substantive background information which can be used by these fans to examine the plausibility of some of the stories and of Holmes' inferences. As someone who is not interested in this approach to the texts, I found the notes to be a bit hit or miss. Some gave considerable background information about the era in which the stories take place, which generally contribute to the text. Others, however, concern the truth of obscure details of the story (such as train schedules) which were of no interest to me. It is quite obvious that Holmes' inferences are often abduction run amok (there are other plausible explanations of the data), but I simply leave that aside as part of a suspension of disbelief. For those reading the stories like me, rather than like the Sherlockian Scholars the volume is aimed at, these notes can be safely skipped over. The volume also contains a large number of excellent illustrations collected from various sources. A few superflous (to this audience) footnotes aside, this is a wonderful edition of these excellent stories.
Also by Sir Arthur Conan Doyle | View all
Also in the The Annotated Books series | View all