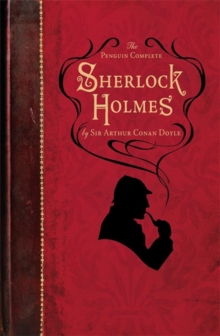 The Penguin Complete Sherlock Holmes
Paperback
Description
The Penguin Complete Sherlock Holmes by Arthur Conan Doyle are the complete adventures of the original and best detective, containing four novels and fifty-six short stories about the most engaging detective of all time, with a foreword by crime writer Ruth Rendell.The detective Sherlock Holmes - who continues to enthral millions in film and TV adaptations starring actors like Robert Downey Jr and Benedict Cumberbatch - was the creation of Arthur Conan Doyle, whose crime stories have thrilled readers for well over a century.
Sherlock Holmes is not only the most famous character in crime fiction, but arguably the most famous character in all fiction.
In sixty adventures that pit his extraordinary wits and courage against foreign spies, blackmailers, cultists, petty thieves, murderers, swindlers, policemen (both stupid and clever), and his arch-nemesis Moriarty, Sherlock Holmes, together with his faithful sidekick Doctor John H.
Watson, proves himself to be not only the quintessential detective but also the most engaging and entertaining company any reader could ask for.The Penguin Complete Sherlock Holmes allows readers to experience the entire case-history of Holmes and Dr. Watson from start to finish - the stories that have spawned such infamous characters as the devilish Moriarty, the devious Irene Adler and, of course, the legendary hound of the Baskervilles . . .This edition includes a foreword written by crime writer Ruth Rendell.
Penguin also publishes, in individual volumes, A Study in Scarlet, The Sign of Four, The Adventures of Sherlock Holmes, The Memoirs of Sherlock Holmes, The Hound of the Baskervilles, The Valley of Fear, His Last Bow and The Case-Book of Sherlock Holmes.'The immense talent, passion and literary brilliance that Conan Doyle brought to his work give him a unique place in English letters.
Personally, I'd walk a million miles in tight boots just to read his letters to the milkman' Stephen Fry'Holmes has a timeless intelligence that puts him head, shoulders and deer-stalker above all other detectives' Alexander McCall Smith'Now, as in his lifetime, cab drivers, statesmen, academics, and raggedy-assed children sit spellbound at his feet.
No wonder, then, if the pairing of Holmes and Watson has triggered more imitators than any other duo in literature' John Le CarreSir Arthur Conan Doyle (1859-1930) studied medicine at Edinburgh University, where he became the clerk to a surgeon whose diagnostic methods provided the model for the science of deduction perfected by Sherlock Holmes.
He set up as a doctor and it was while waiting for patients that he began to write.
Sherlock Holmes first appeared in A Study in Scarlet (1887).
The Holmes stories soon attracted such a following that Conan Doyle felt the character overshadowed his other work.
In The Final Problem (1893) Conan Doyle killed him off, but was obliged by public demand to restore the detective to life.
Information
Format: Paperback
Pages: 1136 pages
Publisher: Penguin Books Ltd
Publication Date: 05/11/2009
Category: Classic crime
ISBN: 9780141040288
Free Home Delivery
on all orders
Pick up orders
from local bookshops
Reviews
Showing 1 - 1 of 1 reviews.
Review by Tarklovishki
16/06/2015
I am one of the many that decided to take on this mammoth of a book after watching the BBC series <i>Sherlock</i>. <br/><br/>Sherlock Holmes is Arthur Conan Doyle's famous creation - a creation we all know the author would later come to despise. <br/><br/>Sherlock Holmes is blunt, crass and just plain rude, but because is a genius the people who come to him for help really just have to put up with it. He's an addict; several times in the book, in different stories, we see him taking cocaine much to the chagrin of his friend John Watson. <br/><br/>One of my main gripes about this book though is Mary. She just disappears without warning halfway through! Only when I finished the book and researched what happened to Mary Morstan did I realise she had an off-screen death that prompted John to move back in with Sherlock. And then we don't even see John upset by this. His wife just died and he's all "Meh" about it. <br/><br/>Ah, true love in the Victorian Era. How quaint.
Also by Sir Arthur Conan Doyle | View all