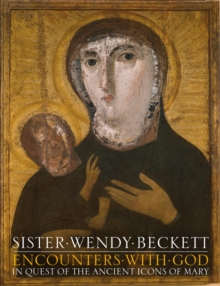 Encounters with God : In Quest of the Ancient Icons of Mary
Hardback
Description
Sister Wendy leads us on a 'pilgrimage of desire' to view the earliest surviving Icons of Mary. 'These early images of Mary seem to me to have the power to shock us out of our complacency, to make us look anew at what the birth of Jesus meant, and means...' In this compelling story of discovery and spiritual adventure, Sister Wendy Beckett, a contemplative nun and beloved art commentator, travels from England, to Rome, to Ukraine, and finally to a remote monastery in Sinai, to view the earliest Icons of Mary.These are among the few Icons that survived the wholesale destruction of Icons in the early eighth century.
In contrast with the familiar and magnificent Icons of later history, these early Icons have a haunting simplicity and unfamiliar spiritual power. 'They are drawing us out of our worldly reality into their world, the true world, summoning us to leave behind all that is earthly and to breathe an air more pure than we can understand.
Icons are for prayer. They are painted in prayer and their intention is to take us into a state of prayer'.
They come to us from a time closer to that of Christ, when faith was still alive with wonder, and possibilities were infinite.In the course of her pilgrimage, Sister Wendy also reviews the history of Christian art, the meaning and function of Icons, and shares her thoughts on the relation between beauty, prayer, and the search for God. In her quest for these ancient Icons, she feels that she has encountered something greater than an image: 'I have called it an encounter with God, because that is truly what it was for me, and what I hope it will be for you, too'."Encounters with God" is beautifully presented with 65 full colour illustrations throughout.
Information
Format: Hardback
Pages: 128 pages, 65 colour illustrations
Publisher: Bloomsbury Publishing PLC
Publication Date: 08/05/2009
Category: Religious subjects depicted in art
ISBN: 9780826441782
Free Home Delivery
on all orders
Pick up orders
from local bookshops
Reviews
Showing 1 - 1 of 1 reviews.
Review by CatyM
16/06/2015
Sister Wendy's writing has much of the infectious enthusiasm of her television programmes. The style is very conversational, and the book is beautifully laid out with wonderful pictures. It's not an academic exercise, but rather a spiritual encounter with the icons informed by all the art history background.The first few chapters explore the earliest Christian art in general, and then the focus narrows to the Virgin and Child Icons. For each of the eight icons, there is a discussion of its history and also of its content.A nice book on the subject: not a learned treatise, but an interesting and spiritual exploration of it.