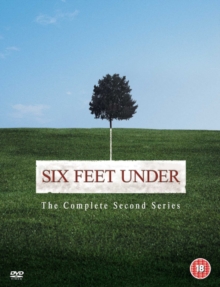 Six Feet Under: The Complete Second Series
DVD
Description
All 13 episodes from the second season of the acclaimed US drama show set around a family-run Los Angeles funeral parlour. 'In the Game' sees David gets test results showing that he is not HIV-positive, but is suffering from gonorrhea, while Nate's MRI tests show that he has a growth on his brain that may or may not be fatal.
At the funeral parlour work centres around a young actress who has died of a drug overdose while playing a role in a slasher movie.
In 'Out, Out Brief Candle', Nate finally tells David about his brain growth after keeping it a secret from his family.
A healthy young college football player collapses and dies during practice and is brought into the funeral parlour.
In 'The Plan', a psychic's husband dies, sparking some interesting conversations at Fisher and Sons.
Robbie persuades Ruth to enrol in The Plan, a self-actualization seminar.
In 'Driving Mr Mossback', Nate drives to Seattle, his former home town, to retrieve the body of a dead man who was terrified of flying.
Claire goes along with him, and they stay with Lisa, a vegetarian commune-dweller who still holds a torch for Nate.
In 'The Invisible Woman', Ruth becomes fascinated by a dead woman who has no friends or relations.
Brenda proposes marriage to Nate, much to his surprise, and Claire is shocked when her friend Parker admits to getting another student to take her college entrance exam for her. 'Place of Anger' sees Nate and David receive another offer from Kroehner, and a drunken family dinner cast a shadow on Nate and Brenda's wedding announcement.
Meanwhile, David can't stop thinking about Keith. In 'Back to the Garden', a Jewish funeral at Fisher & Sons inspires Nate to seek spiritual guidance from an intense female rabbi.
An medical emergency involving Keith's niece prompts Keith to seek David's support.
In 'It's the Most Wonderful Time of the Year', it is Christmas and the first anniversary of Nathaniel's death, and everyone is remembering him.
Nikolai has two broken legs and convalesces on Ruth's sofa.
Nate has a seizure during sex with Brenda and finally tells her about his brain growth. in 'Someone Else's Eyes', Ruth loses patience with Nikolai when he reveals how he sustained his injuries.
Nate hears from his ex-girlfriend, Lisa, adding to his doubts about his impending marriage to Brenda. 'The Secret' sees David and Keith back together, but their relationship still has its problems.
Brenda, anxious about her engagement, embarks on a sexual adventure in Orange County with her friend Melissa.
In 'The Liar and the Whore', Nate and Brenda consult Rabbi Ari, who advises them to be more honest with each other.
Federico is suspicious about the supposedly natural death of an elderly woman, but inadvertently ends up placing Vanessa under the scrutiny of the law.
In 'I'll Take You', tensions erupt between Nate and Brenda when her clandestine activities come to light.
David and Keith are getting on well until a work-related incident threatens everything they've worked for.
In 'The Last Time', inspectors descend upon Fisher & Sons unannounced.
Ruth finally realises that her relationship with Nikolai is nonexistent.
Keith and David are having difficulties since Keith's suspension from the police department.
Brenda seeks help for her emotional problems, and Nate decides to undergo surgery for his brain growth, which unexpectedly draws the family together in a newly discovered intimacy.
Information
Format:DVD
Region:2
Certification:(18)
EAN:7321900253055
Catalogue number:1000085549
Studio:Warner Bros. Home Ent.
Release date:21/06/2004
Genre:Drama
Colour:Colour
Also directed by Rodrigo Garcia | View all