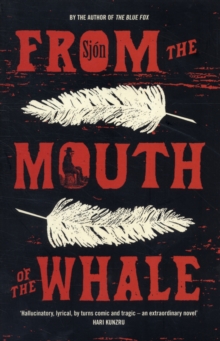 From the Mouth of the Whale
Paperback
Description
In the chilling aftermath of Iceland's Lutheran Reformation in 1635, Jonas Palmason - a poet, naturalist and self-taught healer - has been condemned to exile for heretical conduct. Sitting on a barren island, he contemplates his life in a country that has become gripped by feverish superstition and the cruelty of poverty.
He recalls his gift for curing 'female maladies', his exorcism of a walking corpse in the remote county of Snaefjallastrond, the frenzied massacre of innocent Basque whalers at the hands of local villagers and the death of two of his children while his family were on the run.
When his exile is suddenly revoked, Jonas finds himself swallowed and spewed from the mouth of a north whale, back onto the mainland.
There he returns to the arms of his son and ends his days writing books of poetry and legend.
Based on the historical figure Jon Gudmundsson, From the Mouth of the Whale is a magical evocation of an enlightened mind and a vanished age.
Information
Format: Paperback
Pages: 275 pages
Publisher: Telegram Books
Publication Date: 01/05/2011
ISBN: 9781846590832
Free Home Delivery
on all orders
Pick up orders
from local bookshops
Reviews
Showing 1 - 5 of 11 reviews.
Previous | Next
Review by JBD1
16/06/2015
I've generally not had very good luck when I try to get into Icelandic fiction, but Sjón's "From the Mouth of the Whale" (English translation by Victoria Cribb published by Telegram in 2011) was really quite an enjoyable read. Perhaps it was the historical nature of the narrative that appealed to me, or maybe the natural history elements that the author incorporated into the text. But I liked it. The stream-of-consciousness style worked for me in a way it usually doesn't, and Sjón's lyrical depiction of 17th-century Iceland is lovely. It helps, I'm sure, that the great historical character Ole Worm makes an extended cameo appearance.Definitely worth a try if you tend to like historical fiction with lots of natural history worked in.
Review by auntmarge64
16/06/2015
A bleak tale of early 17th century Iceland, told by an old man banished to solitary exile after his conviction for witchcraft. The story is told primarily in a stream-of-consciousness, and there is little that is positive or beautiful in Jónas Pálmason's mind or memory. I think there are some readers who will find this story fascinating for its imagery and imagination, but I could not appreciate the unremitting grimness.
Review by Smiler69
16/06/2015
"A medium-sized fellow ... Beady brown eyes set close to his beak within pale surrounds ... The beak itself quite long, thick and powerful, with a slight downward curve at the end, dark in colour but lighter at the top ... No neck to speak of; a spry stocky figure with short, tapering legs, a barrel chest and a big belly ... Head a dark grizzled brown, with a ruff extending from nape to mid-crown ... Clad in a grey-brown coat of narrow cut, with a faint purple sheen in the twilight; bright stockings, a speckled undershirt ... Importunate with his own kind, garrulous with others ... So might one describe the purple sandpiper and so men describe me ... I can think of many things worse than being likened to you, my feathered Jeremiah, for we have both crawled from the hand of the same craftsman, been carved with the same knife: you quickened to life on the fourth day, I on the sixth..."Thus does Jónas Palmason's introduce himself when the story begins, in the autumn on 1635. Divided into four parts, ending with the Spring Equinox of 1639, the novel moves between Jónas' stream of consciousness, wherein bits and pieces of his past and present mingle in a confused and confusing soliloquy about what led him to be abandoned on an island off the coast of Iceland, and a central section where the crux of the story is told in a more straightforward narrative. Known as Jónas the Learned by some, he is a self-taught healer and a poet who has been exiled on charges of heretical conduct. A successful exorcism has earned him a good reputation in a time when superstition abounds and many still believe in unicorns and other mythical creatures, but his fate is sealed when he shows opposition to the local magistrate who is intent on carrying out his plan to massacre innocent Basque whalers. The novel is beautifully written and full of evocative and poetic imagery. The massacre is harrowing, but again interspersed with imaginative sequences. My main problem with this novel is that I felt utterly lost in the first section, as I imagine is the intention of the author, perhaps to render Jónas' own state of mind? but too much of what is said here was completely lost on me, and I quickly started feeling like I was just reading this book because I needed to write a review about it. Then the two middle sections were exactly what I imagined this novel could be like based on the short blurb I'd read about it and which had made me think I might enjoy this book. Here Jónas clearly describes the harrowing night of the massacre of the whalers which led to his banishment, as well as a trip to Denmark where he meets the fascinating Dr. Worm, who hires him as one of his research assistants to catalogue his unlikely collection of curios, and tries and fails to get our man acquitted. But then again, the final section with more vague recollections, from which other parts of narrative painfully emerge, felt frustrating more than anything. Here, the following words made me think perhaps I wasn't being quite patient enough: "I lean back in bed, stretching my arms and cracking my joints ... The mouse is still huddled cosily by the fire; it is quite extraordinary how she puts up with my ramblings ... The vetch porridge has hardened in the bowl; I scrape out the leftovers and scatter them on the floor ... In a place of entertainment like this it is the storyteller who must pay his audience rather than the other way round ..." Now that I've gotten the lay of the land, I see this is the kind of book that I might enjoy more on second reading, though I'm not sure it would be quite worth the effort given there are so many other books on my shelves calling out to me...
Review by joririchardson
16/06/2015
In 17th Century Iceland, Jónas Pálmason's strange way of life casts him into a suspicion. His old pagan beliefs, superstitions, extensive learning, and naturalism are believed by many to be sorcery, and so he is sent into exile.When I saw the description of this book, I knew that I had to read it. I have read few books about Iceland, and certainly never one about Iceland in the 1600's. Also, the publisher is known for printing strange, atypical books that I more often than not find myself loving.Well, "From the Mouth of the Whale" was indeed strange, though not for the same reasons as the other books I had read. It was a stream of consciousness type of book, which I normally either love or hate. Here, I hated it. It prevented me from becoming absorbed in the book. Whenever I would put it down and then pick it back up again, I would find the style jarring, and it would take about 50 pages to get used to it. By then, it would be time to stop - and so it went until I finished, feeling sore as if I had just commenced a bumpy ride.It's a shame, because if not for the distracting writing style, I think that I could have really enjoyed this book. I think that naturalism can be quite interesting, especially in a historical setting. And Sjon often included intricate plot descriptions of animals that directly related to the story or characters. Also, I loved the opening scene, in which Lucifer first meets man. Sjon's version of a young Satan is a son of God, which I found intriguing. Satan is Jesus' brother? It sounds like a story. Satan's foreboding feeling regarding man, predicting their selfishness and insistence on destroying the rest of God's creation, was apt and insightful.I was annoyed that Lucifer never again appeared in the story, and his cameo seemed irrelevant except for proving a point.There were other enticingly interesting little things scattered throughout the book. Learned scholars study "unicorn's horns" and "mermaid sculptures," actually narwhale tusks and coral. Jónas' superstitions and pagan beliefs were intriguing. Occasional paragraphs about natural things pepper the story, almost always intertwined with magic. Jónas compares himself extensively to a sandpiper - does this mean something?Everything I felt mildly interesting in this book never led to anything, and it was never enough to overpower the distaste I felt toward the writing style.I wouldn't recommend this book unless you personally love stream of consciousness novels. If so, there is plenty to be enjoyed. However, if you, like me, find the writing style more likely to range from distracting to infuriating, it would perhaps be best to skip this one.
Review by lazybee
16/06/2015
I wanted to like this book - I like historical fiction and Iceland is a really interesting country, so I thought Icelandic historical fiction would be really interesting. But I just could not get into it, the writing style was really annoying. The book is full of long rambling paragraphs sprinkled with ellipses, which are just hard to read and made it unclear what was happening. It's possible that people who really like fiction written in a stream of consciousness style would like From the Mouth of the Whale, but it is definitely not for everyone.