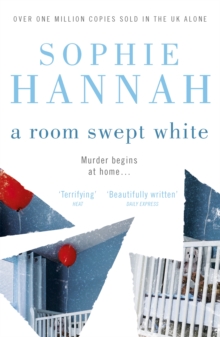 A Room Swept White : Culver Valley Crime Book 5
Paperback
Description
Critically acclaimed queen of psychological crime Sophie Hannah's fifth suspense novel - a must-read for those who love Clare Mackintosh and Paula Hawkins.'Beautifully written' Daily Express'Terrifying' Heat Murder begins at home . . . TV producer Fliss Benson receives an anonymous card at work.
The card has sixteen numbers on it, arranged in four rows of four - numbers that mean nothing to her.On the same day, Fliss finds out she's going to be working on a documentary about miscarriages of justice involving cot-death mothers wrongly accused of murder.
The documentary will focus on three women: Helen Yardley, Sarah Jaggard and Rachel Hines.
All three women are now free, and the doctor who did her best to send them to prison for life, child protection zealot Dr Judith Duffy, is under investigation for misconduct.
For reasons she has shared with nobody, this is the last project Fliss wants to be working on. And then Helen Yardley is found dead at her home, and in her pocket is a card with sixteen numbers on it, arranged in four rows of four . . .
Information
Format: Paperback
Pages: 480 pages
Publisher: Hodder & Stoughton General Division
Publication Date: 19/08/2010
Category: Crime & mystery
ISBN: 9780340980644
Free Home Delivery
on all orders
Pick up orders
from local bookshops
Reviews
Showing 1 - 5 of 6 reviews.
Previous | Next
Review by pokarekareana
16/06/2015
I'm not really one for crime and mysteries and things like that, but I thought I'd try and branch out a little. I quite liked this book and got through it at a fair pace, but I had an inkling about the ending quite early on, so I got a bit bored waiting for the situation to resolved. The characters were a bit flat, and I don't think the main character was meant to be as irritating as she was.
Review by nicx27
27/08/2015
I enjoyed the first three of the Culver Valley series (Little Face, Hurting Distance and The Point of Rescue) and was less impressed with number four, The Other Half Lives. But Sophie Hannah's storylines are always so interesting that I really want to read another one and so I found myself picking up A Room Swept White. I'm afraid I was disappointed.Despite an intriguing story about mothers accused of killing their children and a TV producer who finds herself thrown in at the deep end of a documentary about them, together with mysterious cards with numbers on them being found here, there and everywhere, this book failed to draw me in. Police officers Zailer and Waterhouse are just plain irritating and confusing this time round and Zailer's recent past is referred to quite a bit but the author failed to give any reminder as to what happened to her (whatever it was happened in The Other Half Lives and I can't remember now). I'm afraid I was just glad to get to the end of this book. There were parts that I thought were good and some the opposite, but too mixed for it to score any higher for me. However, I have to say that I will probably read the rest in the series because they appeal to me so much.
Review by Mumineurope
16/06/2015
Fliss, cot death. Very disappointing compared to othere
Review by bibliobeck
16/06/2015
I really love Sophie Hannah's books and I was going to say that this makes me biased, but actually it doesn't. I love them because she is such a good writer and I always enjoy her twisty tales. This one felt slightly different to the others and then I realised this was because of Fliss' voice. I agree she wasn't a particularly likeable character, but does she need to be? Her voice was authentic and the story itself was gripping. I can see where the inspiration came from and this is acknowledged at the end. It's a very difficult subject matter but handled really well with opinions from both sides and a sense of ambiguity even when you think you're being told the truth. Recommended.
Review by polarbear123
16/06/2015
I really enjoyed this book. Ok it suffers from the difficult ending the way a lot of thrillers do but for the majority of the novel ther is a jaunty narrative keeping your interest all the way through. I particularly liked the writing from several viewpoints tactic that seems to be getting more and more popular. Characters were interesting enough and it was pitched perfectly I thought. I will definitely investigate the other books.
Also in the Culver Valley Crime series | View all