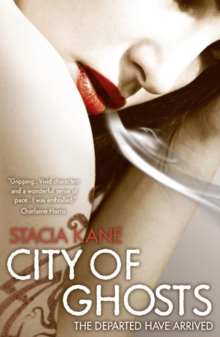 Description
The third book in this gritty, sexy, urban fantasy trilogy. Rogue spirits and psychopomps are terrorising people, and now someone is planning to open the gates to the City of Ghosts and unleash the dead on humanity. Faced with her greatest challenge yet, Chess has to travel to the spirit city to finally lay all her ghosts to rest... Chess Putnam has a lot on her plate. Mangled human corpses have started to show up on the streets of Downside, and Chess's bosses at the Church of Real Truth have ordered her to team up with the ultra-powerful Black Squad agency to crack the grisly case. Chess is under a binding spell that threatens death if she talks about the investigation, but the city's most notorious crime boss - and Chess's drug dealer - gets wind of her new assignment and insists on being kept informed.
If that isn't bad enough, a sinister street vendor appears to have information Chess needs.
Only he's not telling what he knows, or what it all has to do with the vast underground City of Eternity. Now Chess will have to navigate killer wraiths and a lot of seriously nasty magic - all while coping with some not-so-small issues of her own. And the only man she can trust to help her through it all has every reason to want her dead.
Information
Format: Paperback
Pages: 416 pages
Publisher: HarperCollins Publishers
Publication Date: 01/08/2010
Category: Fantasy
ISBN: 9780007352845
Other Formats
EPUB from £4.49
eAudiobook MP3 from £19.28
Free Home Delivery
on all orders
Pick up orders
from local bookshops
Reviews
Showing 1 - 5 of 13 reviews.
Previous | Next
Review by wyvernfriend
16/06/2015
Cesaria aka Chess Putnam is still hooked on drugs to keep her going, trying to deal with the fact that her life is a mess, that she has no idea how to deal with her feelings for Terrible and it's pushing him away and that a ceremony she just attended went terribly, horribly wrong and now she's oathbound to keep secrets and to investigate what's going on.I'm hoping that soon, Terrible or someone will have an intervention and at least get her drug-taking down a notch, her addiction is going to get someone killed one of these days, even if it did help her get through an attempted murder this book.I do empathise with her having to take something to take the edge off but I'm starting to get impatient with it, I want her to survive and prosper but it seems to be a task she's not going to succeed with if she keeps working with her life like that she's not going to survive long. I can see myself feeling sorry for her occasionally but then I just want to force her to look at what she's doing to herself and make it better. It's an interesting series and I'm not really invested in it and the plot but I am curious as to what's going on with the characters and where this is going to go, the storyline behind it is leaving me cold.
Review by lcrabtree
16/06/2015
Five fabulous stars for this one. I'm falling in love with this series and Terrible. Aww.<br/><br/>Best quote for me was probably <b>"They threw me away."</b> while ODing on Dream.<br/><br/>Need the next one now and soon!
Review by mlsimmons
16/06/2015
I really loved this book!! I love Terrible. I think he is the best character in this book. I extremely glad that Stacia Kane is going to write a book four. It will be great to see where Chess, Terrible, Lex and the Church go from the ending of this book. I am sure that book four will keep me intrigued from cover to cover like all three of the Downside books have so far.
Review by sharrow
16/06/2015
So good! Love the characters and the gritty world building.
Review by lyrrael
16/06/2015
Oh Chess.<br/><br/>This was a good book. I'm honestly impressed with how the author manages to convey Chess's discomfort with situations, and my chest tightens reflexively when she's attempting to deal with something that's completely out of her arena and the only thing she can really come up with is flat terror. Like Terrible. Like Lex. <br/><br/>It also makes the books hard to read sometimes, but this one was cathartic. I'm concerned for her future, but at least she's sorted out her present. I'm really curious to have some more information about the activities at the end -- the investigation, Chess's part in it -- and I hope we get more details in the next book. Either way, good show.<br/>
Also in the Downside Ghosts series | View all