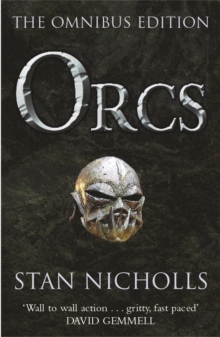 Orcs : Bodyguard of Lightning, Legion of Thunder, Warriors of the Tempest
Paperback
Description
The international bestselling trilogy now repackaged and complete with new materialCombining the acclaimed trilogy of books, BODYGUARD OF LIGHTNING, LEGION OF THUNDER and WARRIORS OF THE TEMPEST, plus a new short story previously only available in a small press anthology, this is the entire story of Stryke and his band of Orcs.Fantasy's bad guys finally get their own say in this fast-moving, action-packed, tongue-in-cheek tale of Orc valour and human treachery.
Information
Format: Paperback
Pages: 720 pages
Publisher: Orion Publishing Co
Publication Date: 01/08/2004
Category: Science fiction
ISBN: 9780575074873
Free Home Delivery
on all orders
Pick up orders
from local bookshops
Reviews
Showing 1 - 4 of 4 reviews.
Review by WillieD
16/06/2015
This book is brillant! It is so unusual to read a fantasy book from the point of view of the 'bad guys'. Very fast paced and lots of action. Fans of David Gemmell will love this. I hear there's a new Orcs book coming soon. Can't wait!
Review by abdhakim
16/06/2015
The title of this book caught me as I was looking for a fantasy book to buy. It is a very interesting book, as it is from orcs point of view. Very rare find indeed since most fantasy books portray orcs to be a bunch of ruthless, bloodthirsty, low-intellect creatures which focus solely on the destruction of others. In this book, we are given the insight on the society of orcs, their dream to escape their endless curse of fighting and slavery, honour and integrity between their kind and above all the story of their flight to preserve their way of life.
Review by Malarchy
16/06/2015
Orcs is a serious disappointment. Weighing in at over 700 pages I was extremely glad to have finished it and that is never a good sign. The long story details a series of skirmishes by a band of Orcs called The Wolverines under the leadership of their Captain Stryke. The skirmishes travel across a fantasy land populated mainly by Humans but also containing a range of fantasy standards including Centaurs, Gnomes, and Dwarfs.The best elements of the story come within the skirmishes. The battle descriptions are well done and while excessively bloody for the non-Orcs are well captured for the most part. I really did enjoy the smaller skirmishes that were well written and engaging. The skirmishes were often piled on top of one another as the Wolverines repeatedly jumped from frying pan to fire without pausing for breath. That piling on was grating at times as was the repeated mention of fortune or luck in describing how the band miraculously escaped without casualty vs overwhelming odds once again. However, the small battles were often won well.There are many criticisms that can rightly be levelled at this book. The first is one that has appeared in previous reviewers many times and that is the Orcs are entirely indistinguishable from other races. There is nothing that differentiates the Orc lifestyle and they are just another adventurer band. Why this criticism is valid is the false marketing. Essentially the book has been sold cunningly as the story told from the Orcish point of view and frankly this is a lie so those who were tricked into buying it (like me) can rightly be offended.Still, the main criticsm is that all of the characters are terrible. There is no emotional character development at all and everyone blurs into bland cliche. The single all-powerful villain is the most hideous character construction I have ever come across. That she rapes and tortures innocent young men for fun is an insight into Stan Nicholls psyche that leaves me wondering at his over-inflated sense of self worth. Stupidly indulgant.The main characters themselves are moronic. The warband leader Stryke turns from being the most effective of all the Orc warriors, leading the best of the best in a daring mission as ordered by his overlord to a self-righteous freedom fighter overnight. The opening encounter is great, really well written but Stryke suddenly decides to give up everything and set off on a quest with no graduation in his character. From black to white in an instant.The other characters are equally poorly drawn. Coilla is Stryke's main confidente and is never anything more than a plot device. Coilla only serves as a medium to demonstrate Stryke's inner thoughts and her own beliefs and understanding of the world are never questioned or developed. She is probably the weakest main support character I have ever had the misfortune of reading.Nicholls touches on religion with apparently almost no understanding and his clumsy distinction between fanatical Unis who believe in One True God and fanatical Manis who believe in Many True Gods is an embarrassment.As Nicholls sets his Orcs in a society where they are ruled over by a cruel dictator, there is no sense of societal construction and no explanation of how the characters involved relate to one another except as a company of fighters. Other societies are touched on but none seem to operate under any form except one dictator being followed unquestioningly.Worst of all is the writing itself. Nicholls should not be a professional author. As someone who edits and publishes novels, I would reject this script and strike Nicholls off my list. The use of language is banal with modern day cliches continuously breaching the suspended disbelief of the fantasy setting. Orcs trade modernist cliches in their speech despite those cliches deriving from sources that could not possibly have been known to them. A fundamental principle of good writing is that the characters involved are affected by their environment and those around them - these characters speak as if their language included the sum of 20th century English.I nearly gave this book two stars because the action is well written. By the time I got to the end of the review and reminded myself how horribly constructed this book is, with clearly no plan, no structure for developing character, and consistenly poor choice of language, all I can say is that Stan Nicholls is an author to avoid.
Review by sundowneruk
02/03/2016
A rollicking good read.<br/><br/>If you're put off by the negative write ups here, forget them! So, not many of the band get killed, how many of the nine get killed in Lord of the Rings? Ok, so the land described isn't massive but neither is Scotland and that has plenty of room for this story to happen.<br/><br/>Read it if you love fantasy books.
Also in the Gollancz S.F. series | View all