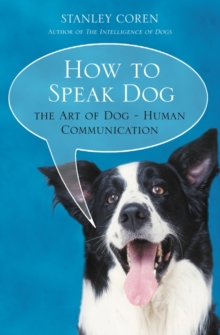 How To Speak Dog
Paperback
Description
Communication is crucial in any relationship - especially when one of you happens to be a dog.
Drawing on substantial research in animal behaviour, Stanley Coren demonstrates that the average house dog can distinguish at least 140 words and can interact at a level approaching that of a human two-year-old.
While actual conversation of the sort Lassie seemed capable of in Hollywood myth-making remains in the realm of fantasy, this book shows us that a great deal of real communication is possible between humans and dogs beyond the simple giving and obeying of commands.
How to Speak Dog not only explains the sounds, words, actions and movements which will help owners to communicate most effectively with their dogs; it also deciphers the signs and signals our dogs are giving to us.
With easy-to-follow tips on how humans can mimic the language dogs use to talk to one another, original drawings illustrating the subleties of canine body language and a handy visual glossary, How to Speak Dog gives dog lovers a whole new range of essential skills with which to improve their relationship with their dogs.
Information
Format: Paperback
Pages: 368 pages, B-w line illustrations
Publisher: Simon & Schuster
Publication Date: 21/03/2005
Category: Dogs as pets
ISBN: 9781416502265
Free Home Delivery
on all orders
Pick up orders
from local bookshops