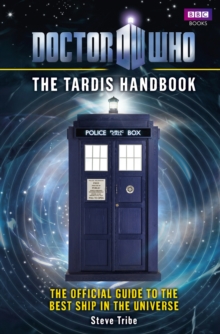 Doctor Who: The Tardis Handbook
Hardback
Description
As the Eleventh Doctor and Amy embark on all-new adventures in time and space, The TARDIS Handbook gives you the inside scoop on 900 years of travel aboard the Doctor's famous time machine.
Everything you need to know about the TARDIS is here - where it came from, where it's been, how it works, and how it has changed since we first encountered it in a London junkyard in 1963. Including photos, design drawings, floor plans and instruction manuals from different eras of the series, this handbook explores the ship's endless interior, looking inside its wardrobe and bedrooms, its power rooms and sick bay, its corridors and cloisters, and revealing just how the Doctor Who production teams have created the dimensionally transcendental police box, inside and out. The TARDIS Handbook is the essential guide to the best ship in the universe.
Information
Format: Hardback
Pages: 128 pages
Publisher: Ebury Publishing
Publication Date: 27/05/2010
Category: Science fiction
ISBN: 9781846079863
Free Home Delivery
on all orders
Pick up orders
from local bookshops
Reviews
Showing 1 - 2 of 2 reviews.
Review by bluesalamanders
16/06/2015
I expected - for obvious reasons - the book to focus exclusively on the TARDIS and information (or speculation) directly related to it, but half the book was descriptions of the Doctor's regenerations, a brief history of the Time Lords, Eleventh Doctor episode summaries, companion bios, etc. While there is some fun stuff, let's just say I was a little disappointed.
Review by bragan
27/08/2015
This slim volume is really not so much a TARDIS handbook as a mish-mash of mostly TARDIS-related stuff. It includes, among other things: a longish writeup on the history and culture of the Time Lords cobbled together from various bits of information given on the show over the years, descriptions and pictures of the different interior and exterior TARDIS designs (although I was a bit disappointed by how little detail there was on the classic series console room designs, as opposed to the new series ones), brief synopses of the first season of Eleventh Doctor episodes, behind-the-scenes info including some notes on early concepts for the show that were never used, some TARDIS-related quotes, descriptions of each of the Doctor's regenerations, and a long list of TARDIS systems and functions that have been mentioned in the series.Like this TARDIS itself, much of it feels a little random. And I think it's probably a bit too geeky for casual viewers, while covering too much familiar ground for the truly dedicated ones. But it was still a reasonably diverting way to spend an hour or two, and it seems potentially useful as reference material for fan writers/artists/people who build TARDIS consoles in their garage. It should be noted, though, that this was published in 2010. And, of course, the show has done some very interesting new things with the TARDIS since then...
Also in the DOCTOR WHO series | View all