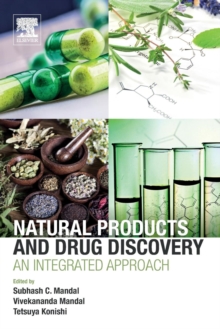 Natural Products and Drug Discovery : An Integrated Approach
Paperback / softback
Description
Natural Products and Drug Discovery: An Integrated Approach provides an applied overview of the field, from traditional medicinal targets, to cutting-edge molecular techniques.
Natural products have always been of key importance to drug discovery, but as modern techniques and technologies have allowed researchers to identify, isolate, extract and synthesize their active compounds in new ways, they are once again coming to the forefront of drug discovery. Combining the potential of traditional medicine with the refinement of modern chemical technology, the use of natural products as the basis for drugs can help in the development of more environmentally sound, economical, and effective drug discovery processes.
Natural Products & Drug Discovery: An Integrated Approach reflects on the current changes in this field, giving context to the current shift and using supportive case studies to highlight the challenges and successes faced by researchers in integrating traditional medicinal sources with modern chemical technologies.
It therefore acts as a useful reference to medicinal chemists, phytochemists, biochemists, pharma R&D professionals, and drug discovery students and researchers.
Information
Format: Paperback / softback
Pages: 776 pages
Publisher: Elsevier Health Sciences
Publication Date: 23/02/2018
Category: Pharmacology
ISBN: 9780081020814