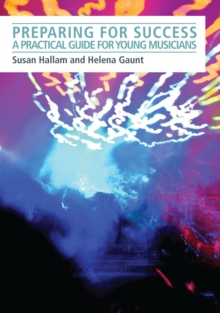 Preparing for Success : A practical guide for young musicians
Paperback / softback
Description
Pursuing a career in music is one of the most challenging and satisfying things you can do. Because music expresses something fundamental about our humanity, it is almost impossible to make it a profession without putting heart and soul into it.
This book is a practical guide for young people who wish to build a career as a professional musician.
It will help you build a realistic professional vision, support your development, and understand what it takes to make a successful career.
As well as providing lots of information drawn from recent research it offers practical tools and exercises, to enable you to relate the information to your own situation, and to help realise your potential.
The book covers three main areas: * helping you to motivate yourself, set goals, and get the most from tuition, practise and rehearsal; * nurturing your creativity and expanding your experience and professional horizons; * mapping out the professional landscape and outlining vital parts of getting a career started. Readers will find it an effective tool whenever they are in search of ways to understand their experiences, solve problems or identify goals. It will be of interest to students and teachers of music in all areas of education.
Information
Format: Paperback / softback
Pages: 285 pages
Publisher: Institute of Education
Publication Date: 06/06/2012
Category: Study & learning skills: general
ISBN: 9780854739035
Also in the Issues in Practice series | View all